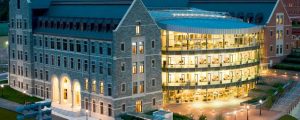 Georgetown University is a private university founded in 1789 based in Washington, DC, with a total undergraduate population of 7,453. This university currently is ranked as the #20 national university according to US News and World Report. The Robert Emmett McDonough School of Business offers a part time, full time and executive MBA program, and the business school is currently ranked #25 by US News and World Report.
Favorite Features
Business school is accredited by the AACSB
The Association to Advance Collegiate Schools of Business or AACSB has accredited the MBA program at Georgetown for years. This indicates the program is of the highest quality, which is important to both you and companies that eventually hire you.
Also, the AACSB recently recognized the Georgetown Entrepreneurship Initiative for its high level of commitment to creating and growing leading edge business innovations and fostering entrepreneurship in new business leaders. The McDonough School of Business is one of only 35 global business schools to earn this honor.
Offers international executive MBA program
One of the unusual offerings of the Georgetown MBA program is the Global Executive MBA. This is a one year, intensive program that is designed for professionals with more than seven years of business experience. It consists of a year of intense coursework, with six international residencies that last two weeks each.
The GEMBA program has been designed carefully to follow the international modular format. Every residence leverages the location abroad to provide students with a strong foundation in that country's business concepts, applications, and tools necessary to succeed in the global economy.
For 2018, the international residencies are in DC, Barcelona and Madrid, San Jose and Panama City, Doha and Bangalore, Beijing and Shanghai, and New York and Washington DC.
DC advantage for McDonough School of Business
Georgetown University highlights on its website the advantage of having its location in Washington DC. Students often go off campus for site visits and career treks in the DC metro area, which is the home of so much of the government and business that goes on in the US. Research centers in various industries often have policy briefings on Capitol Hill or on campus.
The university also acts somewhat as a global convener; it is very common for major business executives, global leaders and other notable professionals to speak on campus while they visit DC. MBA classes also are often visited by major government, business and nonprofit leaders.  
Faculty is highly regarded around the world
Faculty members at the McDonough School of Business are known as top level scholars around the world in research, and most are professionals who have years of leadership experience in government, business or NGOs. With such high quality faculty, it is no surprise that the business school has been so effective in developing global leaders who can build a better world in all aspects of the business and government environment all over the globe.
Least Favorite Features
All applicants must supply standardized test scores
To be considered for admission to any MBA program at Georgetown, you must submit GRE or GMAT test scores. Some business programs do not require you to submit scores, or allow high achieving applicants to waive the requirement. But at this time, you must supply these test scores. See MBA programs without the GRE or GMAT requirement.
The median GMAT score for those accepted at Georgetown is high at 700. This means the program is selective. For the class of 2018, there were 1890 applications and 831 admitted.
Alumni network is not highly rated by graduates
Some graduates report that the alumni network is not as helpful for mentoring and career connections as other top programs in the country.
Scholarship help is limited
Some graduates also report that scholarship funding at Georgetown is somewhat lacking. The size of the endowment at $1.6 billion is relatively small compared to its peers. Its endowment is actually the lowest for a top 25 program. Having a small endowment is a hindrance to offering good financial aid packages to the best MBA students. It has been reported that the business school dean is aware of the shortcomings for scholarship funding and hopefully this will be addressed for future class years.
The Details
General Information
Founded in 1789
Application deadline: June 1
Application fee: $75
School type: Private
Term Schedule: Semester
Location: Washington, DC
Student-faculty ratio: 11:1
Tuition Rates
MBA – $1860 per credit hour part time; full cost of regular MBA is $56,400 per year; executive MBA program cost is $137,800 total
Business Degrees
Master of Business Administration
Concentrations
Class Profile
Entire university is 56% female and 44% male
17% admission rate for entire university, making it very competitive
68% of full time MBA graduates are employed at graduation
MBA class is 30% female; 28 average age; 34% international; 36% US diversity; 67% speak more than one language; 77% have lived or studied abroad; 5.4 years of work experience on average.
Graduation and Retention Rates
4 year graduation rate for the entire university is 90%, which is excellent.
Freshman retention rate is 70%, which is average.
95% of graduates earn their degree in six years.
US News Rankings
National universities: 20
Best colleges for veterans: 4
Best value schools: 26
High school counselor rankings: 11
International business: 4
Best online graduate business programs (not MBA): 9
Part time MBA: 11