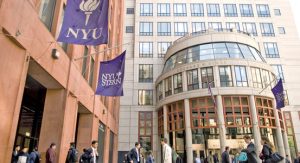 New York University is a private university based in New York City that was founded in 1831. Its total undergraduate enrollment is 26,135. The university is ranked as the #30 best national university according to US News and World Report for 2018. The Leonard N. Stern School of Business is ranked the #13 best business school in the country according to US News. Some Stern MBA alumni have risen to the top of their respective fields, such as Jack Abernethy, CEO of Fox Television Stations, and John Dempsey, group president of the Estee Lauder Companies.
Favorite Features
University is very selective
New York University overall accepts only 32% of those who apply, making it a very selective institution. Colleges with a low acceptance rate tend to have higher quality and provide a higher quality education than less selective universities.
The MBA program also is selective with only a 21% admission rate. There most recently were 3927 applicants and 822 admitted.
NYU Stern is accredited by the AACSB
Accreditation is a very important part of earning your MBA. It is important that your MBA comes from an accredited institution. NYU Stern's MBA programs are accredited by the AACSB. This is one of the most respected business education accreditation agencies in the world. Your degree will be respected as one of high quality from potential employers with the AACSB seal of approval.
Several MBA programs offered
NYU Stern offers a part time and full time MBA, as well as an executive MBA for highly experienced professionals. If you have special interest in technology, you also will feel at home with Stern's Tech MBA. This MBA has coursework in emerging technologies, dealing with data, devOps and software engineering and technical product management. This is a one year program.
There also is a fashion and luxury MBA for professionals in the fashion and retail industry.
4 year graduation rate is high
The four year graduation rate for NYU is very high at 82%. This indicates that most students graduate on a timely basis and enter the working world. Students who take five or six years to graduate or more spend more money being in school. It is generally better to graduate from college in four years or even sooner if possible.
NYU Stern is highly ranked
The business school at NYU is ranked highly – it is currently ranked #14 according to US News and World Report. It also is located in the heart of New York City, so there are many professional and cultural advantages to attending a program that is in the middle of one of the financial centers of the world.
Average base salary for MBA graduates is high
US News and World Report states the average base salary for MBA graduates of Stern is $121,100, which is excellent. This does not include sign on bonuses and other compensation such as year end bonuses. Also, 80% of graduates of the part time and full time MBA program are employed when they graduate.
Least Favorite Features
GMAT or GRE test scores are required
NYU Stern still requires applicants to take either standardized test, and the college website does not mention any waiver policy for experienced professionals. However, the site states there is no minimum score required to be considered for admission. It appears that the GMAT or GRE test results are just one component of your overall application that Stern considers.
No online MBA is offered
NYU Stern offers many attractive MBA options, including a full time, part time, tech and fashion and luxury MBA. But there is no online MBA offered at this time.
Big city MBA
Many students may like having a campus right in the middle of Manhattan, but going to graduate school in the heart of New York City is not for everyone. There is no real 'campus' in a traditional sense; the university's buildings are spread around several city blocks.
The Details
General Information
Founded in 1831
Application deadline: Rolling
Application fee: $50
School type: Private
Term Schedule: Semester
Location: New York City
Student-faculty ratio: 10:1
Tuition Rates
Business Degrees
Master of Business Administration
Class Profile
779 MBA students enrolled full time, 1300 part time
3977 MBA school applicants and 822 admitted – 21% admission rate
University overall has 57% female and 43% male student body
MBA program is 38% female; 37% international; 29% minority; 11% underrepresented minority
Average MBA school student age is 28
Average GPA for MBA students is 3.48
Graduation and Retention Rates
97% of Stern graduates reported they were employed full time within 90 days of graduation with a $72,000 average salary
Overall graduation rate at NYU is 83%, which is excellent
93% of all students stay for a second year, which is also excellent
US News Rankings
National universities: 30
Best value schools: 55
Most innovative schools: 20
Business programs: 5