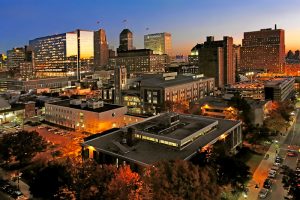 Rutgers University is a public university that was founded in 1766. Its total on campus enrollment at the undergraduate level is 35,484. It was ranked most recently by US News and World Report as the 70th best national university. The university has five different campuses within the state of New Jersey.
Favorite Features
Business programs are accredited by the AACSB
AACSB International is the leading business education accreditation agency in the world. When you see the AACSB seal of approval on a university and its business college, you can be confident that the program is of the highest quality.
AACSB is the most widely respected accreditation agency for business programs in the world. It is the gold standard in the business, and many universities report that the AACSB accreditation process is the most rigorous they ever encountered. The normal AACSB accreditation process takes at least two years.
AACSB accreditation is of particular importance for online programs; some employers believe that an online MBA is of lower quality than a traditional MBA. The AACSB stamp of approval tells employers that your MBA program is high quality.
The AACSB accreditation process assures you and your employer of the following regarding your business program:
It appropriately manages resources to achieve a relevant and vibrant business mission
It advances business and management skills and knowledge through a high level of faculty scholarship
It provides the highest level of teaching quality and a high caliber business curriculum
It cultivates strong and meaningful interaction between students and the faculty
It produces graduates that have achieved a high level of knowledge in business management
GMAT waiver is available for certain graduate students
The GMAT standardized examination is still required for admittance into the business school at Rutgers University. However, GMAT waivers are available for certain business professionals who show that they have relevant, progressive years of work experience and rigorous academic preparation for the MBA program. Generally, you need to have at least eight years of business management experience, and have taken at least two undergraduate quantitative courses, such as math or statistics, and gotten a B or better.
Note that a waiver is not an assurance that you have been accepted into any Rutgers graduate program. You also will be required to provide an updated resume and copies of official college transcripts to determine if a GMAT waiver will be given.
Accelerated, professional MBA is offered
Busy working professionals may want to earn an online MBA as quickly as they can. The Professional Master of Business Administration at Rutgers is designed to do that.
This program takes approximately 21 months to complete, and features a more compact class schedule, a week long international residency and a cohort experience with your classmates.
Least Favorite Features
All classes are live and meet at set times
The online MBA is a synchronous program with set meeting times during the week in the evenings, and also on Saturday. During summer sessions, the classes convene three times per week in the evening.
This is an entirely live class format, and it can be very helpful in terms of networking and getting to know your professors and classmates. Some people also find that learning collaboratively in a live classroom environment is better for learning.
However, it should be noted that if you are meeting at set times, this program is not very flexible. If you need an online MBA that is more flexible, you should consider an online MBA with recorded lectures that you can watch on your own time.
Some busy working professionals cannot attend an MBA program with live, set classes. Which works for you depends upon your learning style and personal schedule.
GMAT scores are required to be considered for admission
Rutgers still requires you to submit your GMAT scores to be considered for admission into the program. Many experts today think that doing well on the GMAT is not a good indicator of your suitability for success at the graduate school level. However, Rutgers still requires standardized test scores to be submitted.
You may apply for a GMAT waiver when you apply for your business graduate program, but there is no guarantee that it will be granted.
The Details
General Information
Founded in 1766
Application deadline: Rolling
Application fee: $70 for MBA
School type: Public
Term Schedule: Semester
Location: New Brunswick, New Jersey
Student-faculty ratio: 12:1
Tuition Rates
Graduate: Online MBA – $1,256 per credit hour, plus $300 fee per course
Undergraduate: Online: $550 per credit hour, plus $300 fee per course
Business Degrees
Graduate: MBA, Professional MBA, Master of Accounting
Undergraduate: Bachelor of Science in Business
Concentrations – MBA
Entrepreneurship, Finance, International Business and Operations, Management, Marketing
Class Profile
58% of applicants are accepted, making it a more selective school
4 year graduation rate of 58%
50% male,, 50% female
Total enrollment is 49,428
Graduation and Retention Rates
Four year graduation rate of 80% makes it well above the national average
92% of students return for their second year, well above the national average
6% of students fail to graduate within 150% of the expected time, which is usually four years
US News Rankings
National universities: 70
Best colleges for veterans: 42
High school counselor rankings: 56