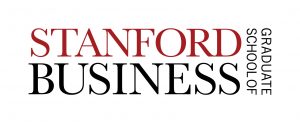 Stanford University is a private university that was established in 1885. Its total undergraduate enrollment is 7,034. It is currently ranked the #5 best national university according to US News and World Report. The Graduate School of Business is currently ranked #4 in the US according to US News and World Report. Forbes reports that as many as 50% of graduates from this program go on to start a business, according to 2011 data. So if your goal is to build a company and not necessarily go to work for a large corporation, Stanford could be a good fit.
Favorite Features
MBA program is highly rated by US News and World Report
The Stanford MBA is one of the top ranked in the US at #4. It is a highly selective program that only admits the best and brightest students. In fact, US News and World Report finds that the average GMAT score for students who are admitted is the highest in the country at 737. It is even higher than Harvard at 731.
Stanford MBA alumni are highly active and engaged
The alumni organization for Stanford business school graduates is very active. According to the university website, 11% of Stanford MBA graduates provide volunteer support for various business school programs, and 20% of alumni attend business school events on campus or around the world. And 40% of Stanford MBA graduates provide financial gifts to the university.
Many current students are able to use the alumni group as a helpful networking tool to find work and internships.
High average base salaries according to 2017 data
The university provides salary data for recent MBA graduates going back several years. For 2017, the average base salary was $142,000 and the average signing bonus was $25,000. While the tuition for the MBA is high, there is little doubt that Stanford MBA graduates earn near the top of the income scale for entry level salaries. Forbes also reports that Stanford graduates have the highest compensation five years out of school at $221,000 per year.
Highly selective program
If your desire is to attend one of the most selective MBA programs in the country, Stanford is a great choice. According to 2017 data, there were 8173 applications and only 418 accepted, so only 5% or so were accepted.
There also are many minorities selected. According to 2017 data, diversity information is as follows:
Women: 40%
Minority: 29%
International: 41%
Stanford is AACSB accredited
Accreditation of MBA programs and business schools is very important to ensure you and your potential hiring organization that you have earned a high quality degree. The Stanford MBA is accredited by the AACSB, which is one of the most important and respected business education accreditation agencies in the world.
Least Favorite Features
No part time or online MBA offered
While Stanford University has one of the best MBA programs in the country, the options offered are limited. There is only a full time MBA program that you must attend on campus. There is no part time or online MBA. Thus, this program is primarily suited for students who can attend the program full time. It is not well suited to students who want to continue to work while in school.
GMAT scores are required
As with most top MBA programs, Stanford University requires students to submit GMAT scores to be considered for admission. While some universities no longer require standardized test scores, the GMAT is still used as a primary way to select the top candidates at Stanford and other top programs.
Tuition is expensive
As one would expect with a top MBA, tuition is expensive. At Stanford, if you pay full price, you will pay $68,000 per year, with a total price easily nearing $200,000. However, many students are able to get a combination of loans and fellowship awards.
The university website states that 50% of students get fellowships and half get loans. The average fellowship is approximately $35,000 per year. So, it is possible to get up to 50% of your tuition funded through the university. You may also be eligible for other scholarships outside the school.
The Details
General Information
Founded in 1885
Application deadline: June 1
Application fee: $75
School type: Private
Term Schedule: Semester
Location: Stanford, CA
Student-faculty ratio: 11:1
Tuition Rates
Business Degrees
Master of Business Administration
Concentrations
Management
Economics
Accounting
Marketing
Class Profile
Women: 40%
Minority: 29%
International: 41%
5% acceptance rate is one of the toughest in the US
737 median GMAT score is the highest in the US
Graduation and Retention Rates
93% of students graduate from Stanford, which is very high.
98% of freshmen return for their second year, which is excellent.
94% of students finish their degree within six years.
US News Rankings
National universities: 5
Best colleges for veterans: 1
Best value schools: 4
High school counselor ratings: 1
Most innovative schools: 2
Best business schools: 4