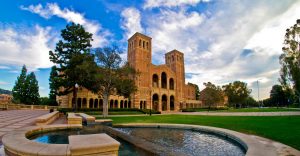 The University of California — Los Angeles is a public university with a total undergraduate enrollment of 30,800. According to US News and World Report, it is ranked the 21st best national university in the US. It is a highly competitive university for admission overall, with only an 18% admission rate. It also features a flexible online and on campus MBA program called FEMBA Flex offered through the UCLA Anderson School of Management. There are four campus visits per quarter on the weekends and the rest of the program is completed online.
Favorite Features
Excellent alumni and career services offered to MBA graduates
Graduates of the MBA program can take advantage of a variety of excellent services to further their business career. First, the career services center offers career coaching as you approach graduation. You are provided personalized, one on one coaching so that you are put in the best position to get a position that will help you to achieve your business career goals.
Other services offered to graduates through the alumni and career services departments include:
Resume and cover letters
Networking
Interviewing
Negotiating
Career advancement
Career assessment
There also are thousands of MBA graduates who are active in the alumni program. They can help people in the program or recent graduates to get further mentoring and career help. Also, the MBA program invites recruiters on campus during students' second and third years for internships and full time opportunities.
MBA program has regular executives in residence to mentor current students
The executives in residence program offers students high level, business expert advice in various business and management fields: banking, finance, engineering, marketing, technology, accounting and more. Industry leaders are available to meet with flex MBA students one on one to share insights and knowledge about their specific areas of business expertise. Executives in residence also offer coaching and constructive criticism to students who want to gain in their current field or explore a new one.
Major national and international companies recruit UCLA MBA grads
Below is a list of the corporations who have recruited UCLA Anderson students and graduates in the last few years:
Apple
Amazon
Amgen
Citi
Nike
Comcast
Deloitte
Disney
Nestle
Google
Visa
Mattel
Sony
Microsoft
The university's central location in Los Angeles also provides excellent opportunities to secure employment and internships for graduates and current students.
Anderson School of Management is accredited by the AACSB
One of the most important things to look for in an MBA program is program accreditation. Accreditation of the MBA program and the business school is important because it tells both you and employers that your degree is of high quality. You want to know that you have learned what you need to succeed in business and management, and this is important for employers to know as well.
The UCLA Anderson School of Management is accredited by the AACSB, which is the most prestigious business education accreditation body in the world.
Least Favorite Features
No fully online MBA program is available
You only have limited options for the UCLA MBA program. The most popular offerings are the full time and part time MBA programs on campus. The flex MBA program offers some online options, but you still must come to campus every three weekends.
Students who live outside of California will probably find it difficult to attend the UCLA program. Coming to campus that much is challenging for any full time professional with a family.
Highly selective MBA program
UCLA's MBA program has an excellent reputation for quality and affordability. Not surprisingly, getting admitted is difficult. Current data shows there were 3314 applications received last year and only 360 were admitted.
It is of course good that a program is selective; it generally indicates high quality. But many students will find it challenging to get into this program.
GMAT scores are required
You must submit GMAT scores to be considered for admission. Also, the average GMAT score of admitted students is a competitive 716, with the middle range between 680 and 750. So, you will have to really study for the GMAT to have a chance to be admitted to this program.
Typical MBA students have only five years of business experience
This is a highly competitive MBA program, but the average years of work experience for students is only five years. This indicates most of the admitted students are only a few years out of their bachelor's program. Many highly rated programs tend to have students with many more years of business experience.
The Details
General Information
Founded in 1919
Application deadline: Nov. 30
Application fee: $50
School type: Public
Term Schedule: Semester
Location: Los Angeles, CA
Student-faculty ratio: 17:1
Tuition Rates
Business Degrees
Master of Business Administration
Concentrations
Class Profile
Acceptance rate at the university overall is only 18%, meaning that fewer than two out of 10 applicants are accepted.
MBA program currently has people from 52 countries, 955 fully employed students, 66 active military or veterans, more than 50 industries represented, more than 600 companies represented
28% minorities, 38% women, 30% international, 163 undergraduate universities represented
Top student backgrounds are finance, high tech, consulting, consumer goods, public and nonprofit, healthcare and biotech
2-3.8 GPA from undergraduate school, 716 average GMAT
Graduation and Retention Rates
74% four year graduation rate, which is above average
US News Rankings
National universities: 21
Best colleges for veterans: 5
Best value schools: 88
Best business schools: 16