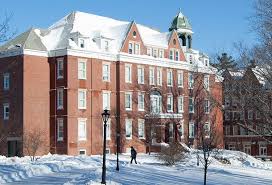 The University of Maine is a public college founded in 1865, and is based in Orono, Maine. It is currently ranked as the #181 best national university according to US News and World Report. The university has an online MBA program offered through the Maine Business School that is accredited by the AACSB.
Favorite Features
Online MBA is accredited by the AACSB
One of the most important features of online business programs is accreditation. It is important for a respected business education accreditation body to review an online MBA program so that you and prospective employers know that the program is of high quality.
The University of Maine's online MBA has been accredited by the AACSB. This tells you that the university provides a quality MBA program taught by high quality professors. According to the website, most of the faculty for the business program online are well known internationally and nationally.l
GMAT waiver is available
Many MBA programs still require students to take the GMAT to be considered for admission. However, this business school waives GMAT scores if you have a PhD, MD, JD or master's degree. Also, the GMAT can be waived for 'strong candidates' who have five or more years of post-graduate work experience. You should have been part of management for staff; leadership of work teams; have had financial or budgetary responsibility, or had jobs that showed high analytical and quantitative skills.
See more Online MBA Programs GMAT Waiver
Note that no GMAT waiver is given automatically; it must be approved by the admissions committee.
Maine Business School is ranked by US News and World Report
According to the university website, the business school is ranked among the top 200 in the US according to US News and World Report. Also, its AACSB ranking means it is among only 6% of business schools across the world.
100% online MBA is available
The online MBA can be taken entirely online if you prefer. Online students take the same courses as students who visit campus, or attend campus fill time. In some cases, fully online students will work with on campus students remotely on various presentations and projects.
Easily compare 25+ Accredited Online MBA Programs
Note that the online program is not entirely asynchronous. This means that you will need to attend some classes at the same time as your other classmates. This is important to understand for 100% online MBA students who have a busy professional and personal work schedule.
Affordable tuition for in state and out of state students
Students who take the online MBA will find the tuition is very affordable. Maine residents pay $429 per credit hour, but out of state students pay only $536 per credit hour. Thus, it is possible to complete your online MBA out of state for less than $20,000.
Least Favorite Features
University of Maine has low overall score in US News rankings
The current rankings for US News and World Report show this university has a low overall score of 34 out of 100. It also is only ranked as the #181 best national university, which would suggest that its overall academic quality is average, at best.
Because the university is not highly ranked, earning an MBA from this university will not be as highly regarded from earning a degree from a more respected university, such as the University of North Carolina. That program has a highly respected online MBA program.
On a related note, the business school is unranked by US News, so it is difficult to know how good the school is.
University accepts most who apply
According to US News and World Report, the university accepts 90% of students who apply. This suggests that the university is not of particularly high quality. Universities that have high quality programs and professors tend to be much more selective.
Low 4 year graduation rate
Current graduate statistics show that only 36% of students graduate within four years. This suggests that many students either drop out or transfer to another university. Neither of these outcomes reflect well on the University of Maine.
The Details
General Information
Founded in 1865
Application deadline: Jan. 5
Application fee: $75
School type: Public
Term Schedule: Semester
Location: Orono, Maine
Student-faculty ratio: 14:1
Tuition Rates
MBA – Maine residents pay $429 per credit hour, but out of state students pay only $536 per credit hour.
Business Degrees
Master of Business Administration
Concentrations
General or accounting MBA
Class Profile
Entire university is 53% male and 47% female
Princeton review states that the MBA program has an acceptance rate of 58%, with 7 years average work experience and average age of 27.
69 average GPA for MBA students
Graduation and Retention Rates
4 year graduation rate is for the entire university is low at 36%, which suggests many students drop out or transfer
US News Rankings
National universities: 181
Best online MBA programs: 131
Best online bachelor's programs: 179
High school counselor rankings: 177
Top public schools: 97
Business programs: 216