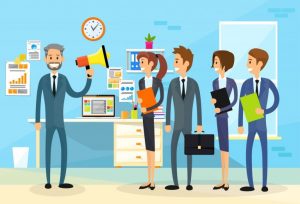 Employee motivation is essential to the success of a business. When the employees of a business are motivated to do well, the business will do well. On the other end of the spectrum, when employees are not motivated, there can be some employees who are not productive and they may not even care whether or not the business succeeds. This can create havoc within a business. Making employee motivation a focus is important because having employees that are motivated to help the business succeed and are productive can only help your business improve and become more profitable.
Whether you currently have employees that are motivated and want to keep it going or you want to transform some employees within the current work environment, there are some tried and true ways that can help encourage employee motivation.
Try some of these methods to find the right one for your business and watch as your business and culture changes in front of your eyes.
1. Let Your Trust Be Known
Employees want to know that they are are trusted within their roles. If you have not told them and shown how much you trust them, this can lead to less motivation. However, if you take the time to not only tell them you trust them but show them that you do through new projects and ownership, you will see an immediate attitude change within each employee. No one likes to be micro-managed and if this is happening within your business, this could be where this mistrust is starting. When you give them a vote of confidence instead of more questioning and looking over their shoulder, the confidence will go a long way. You may also be surprised by how quickly they actually fill the shoes that you provide to them in the process.
2. Give Employees a Purpose
If your employees are doing the same things every day and they do not know or understand why it is important, then the job becomes unimportant to them. The trick to changing this is actually giving them a purpose for the role they are playing. This purpose is likely already there but if you have not made it known or educated the employees on why it is important, then they may not see it or even be aware. Not only will the job become more important to them but they will also be able to do their job more effectively, become a stronger employee, and will work within the vision of the business. They will be able to see how they fit within the big picture and this will help to solidify them as part of the team that makes up all other employees.
3. Focus on Motivating Individuals
Even if your business is set up to operate as a team, you need to focus on each employee as an individual. Providing them with the individual support and attention they want will help them to feel more valuable. When all employees are motivated on the team then the team will collectively have the right motivation to move forward for success. You can still motivate the team as a whole later but when you are trying to initiate the motivation, it is best to focus on the individuals first. Each person is different and the way to motivate the team the best is by making sure each component, or individual, feels important and motivated.
4. Make Work-Life Balance a Priority
You should focus on creating a culture that makes work-life balance a priority. Today, employees are looking for a job that will allow them to still have fun outside of their role. By making this a priority within your company, you are sending a clear message to your employees that lets them know you care about them and their life. When employees feel like they are cared about by the company they work for, they are more motivated to do well and succeed within the business. In order to do this, you need to provide vacation time to your employees and you need to encourage them to take time away from the office. This allows employees to disconnect and reset outside of work so they can come back refreshed and ready to take on the next project. By making work-life balance a priority, you will notice that productivity will increase as will happiness around the office.
5. Incentivize Performance and Motivation
One of the most effective ways to really get an employee to work harder and become more invested in their job is by allowing them to work towards a goal. You can create a goal for employees and incentivize the fulfillment of that goal in some way. Some businesses will provide a bonus when a goal is reached for the company while others will provide an extra vacation day. When employees have something they can work towards that will directly benefit them as a result, they will work harder for the company to reach that goal. To key to making this method successful is understanding what your employees want. You cannot incentivize employees to perform well if the reward is not something that they are interested in. You may want to take a poll with your employees to find out what matters most to them in terms of prizes for a goal or what they would be more interested in working towards. Once you know what they want, you can effectively put this plan into action and help them reach these goals collectively for your business. Why not motivate key employees to take free online business courses in an area they have an interest in or go back to school and get a top mba degree online? 
6. Develop Smaller Goals
Even if you have some large goals in mind, creating a goal that is too lofty can create some demotivating attitudes. You do not want to create a goal for your employees that will leave them wondering if they will ever reach the goal. Instead, you should work on smaller goals that lead up to the big goals. You can make this a weekly goal or a monthly goal to help get to a yearly goal if you want. There are a lot of ways to set up goals like this but there is a psychological impact on employees if they are given a goal that is within reach and there is a time limit on the goal. They  tend to work harder to achieve the goal during that time frame and they actually feel as though they can accomplish it during the time frame that has been set. You do not need to provide large rewards for the smaller goals, either. You can provide little rewards like a pizza party for lunch the next week, an afternoon off, or something else small. You can reserve the larger rewards for when the larger goals are achieved. This is the type of motivation that can be great for short spurts but does not get into the core of why employees are not motivated and does not impact motivation over the long term. Because of this, this method is best used to renew motivation or to help reach a new company milestone but not to fix an overall problem with motivation within a company.
7. Let Employees Be Part of the Bigger Picture
One of the most vital mistakes that a company or business makes with employees is not showing them the bigger picture of what they are doing. This goes beyond giving them some confidence and ownership in their projects as mentioned in the second motivation method. This goes beyond that by really showing employees the vision of the company and giving them a reason to want to work hard. Ideally, you want employees working for you that share in the same vision as your business. When this happens, it is not hard to motivate employees based on the bigger picture of what your company is doing. However, if you never show your employees the bigger picture and actually let them be a part of it, then they will not even have the opportunity of working harder to make an impact and you will not see the motivation as a result. The bigger picture should be something that is constantly reinforced. It should be discussed as part of the interview process with potential candidates for hire, it should be mentioned in the office meetings that you hold, and it should be a core part of the culture.
8. Reward Employees Based on Feedback
If an employee is performing well and this is seen through the feedback process, you want to try to do everything to reward that. Employees do not want to work hard for nothing. If they are working hard and they are doing well, you want to show them how much that means to the company. Whether the positive feedback leads to a raise in pay because of how well they are performing or there is a monthly award based on feedback is completely up to you. However, there is a direct correlation to the performance of an employee and how they are rewarded for positive feedback. You want to make sure that the employee knows that you are paying attention. You can do this by ensuring that you recognize their efforts within the company. Rewarding good performance is not just something that will help the employee continue working hard but it can also be a motivator for other employees. If they see another employee getting some great feedback and a subsequent award, they will be more likely to try to work towards getting that reward as well. This is a great incentive to formally recognizing great team players and motivators in any regular office meetings.
9. Create a Culture of Transparency
A crazy thing happens when an employee feels as though they are a part of the process. They actually start to take ownership in what they are doing. By creating a culture of transparency, you can help employees feel more ownership because they will know what is going on. Hiding things and keeping things secret can only lead to resentment in the work place. A lot of companies are actually making a shift to a more transparent model where they provide an update on the business and how things are going on a regular basis. This does not mean you need to update every employee about everything that happens but if you provide them with the high level information regularly, they will feel more connected to the business and their work which means they will work harder. Having a transparent and open door policy can also help the business because you are opening the door to more ideas from your employees and letting them in on the conversation.
10. Find What Motivates Each Employee
Not only is it a good idea to motivate each employee individually but it is also a good idea to know what they do and do not like working on. If you know what makes an employee tick, then you can better know if a project will be good for them or not. Employees are more likely to be motivated to work on something that they like to do than to try to force themselves to get a task done that they do not enjoy. If you can find the right task for each person in the company, then you can ensure that they will enjoy getting the work done and the motivation component will be a lot easier. You will not need to motivate them to enjoy what they are doing but you will only have to focus on making sure they are happy with the company and their role. This makes the task a lot easier. To put it into perspective, instead of trying force a square into a circle, you will just have to ensure the circle is the right size. Take some time with each employee to make sure they are using their skills for the best role for them and if not, make some changes so you can help make them happier to do their jobs, and subsequently, more motivated to do them.
References
https://www.inc.com/ilya-pozin/14-highly-effective-ways-to-motivate-employees.html
http://www.americasjobexchange.com/employer/employer-articles/employee-motivation
https://www.huffingtonpost.com/margaret-jacoby/top-5-ways-to-motivate-yo_b_5839504.html
https://www.forbes.com/sites/brentgleeson/2016/11/30/the-best-ways-to-motivate-employees-and-get-results/
http://www.americasjobexchange.com/employer/employer-articles/organizational-and-employee-development
https://thetrustambassador.com/category/trust-and-motivation/
http://www.americasjobexchange.com/employer/employer-articles/employee-motivation
https://www.entrepreneur.com/article/239515
https://www.forbes.com/sites/deborahlee/2014/10/20/6-tips-for-better-work-life-balance/#5f655ac529ff
https://www.entrepreneur.com/article/234752
http://www.deimar.co/2014/01/help-employees-understand-big-picture.html
https://hbr.org/2017/02/to-achieve-a-major-goal-first-tackle-a-few-small-ones
https://www.inc.com/christina-desmarais/5-tips-on-how-to-give-employees-purpose.html
https://www.entrepreneur.com/article/249115