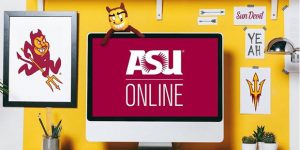 Having a good job is linked to all sorts of good things — higher wages, better daily satisfaction, even longer lifespans. For many people, finding a job that unlocks a better life is a matter of earning a new degree. But which one should you pursue? It should be a degree that's in demand. Consider one of these 23 ASU Online degree programs that the U.S. Bureau of Labor Statistics predicts will be in highest demand over the next several years.
Bachelor of Science in Sustainability
With the growth of research and commercial applications in renewable energy, a degree in sustainability is a wise investment for years to come. The top two jobs in terms of growth through 2026 are both related to degrees in sustainability: solar installer (+104.9%) and wind turbine technician (96.3%).
Bachelor of Applied Science in Health Sciences
The fastest growing broad industry is healthcare, as the country continues to age, so it makes sense that several of the fastest-growing jobs are tied to a degree in health sciences. Whether you want to be a home health aide (+47.3%), a registered nurse (+14.8%) or a nursing assistant (+11.5%), an Online Bachelor of Applied Science in Health Sciences is a good start.
Bachelor of Science in Computer Information Systems
Jobs in technology will always be in high demand, as all the new technological innovations we've seen and all those to come involve being able to write computer code. An Online Bachelor of Science in Computer Information Systems can help you get a job as a statistician (+33.8%), a database administrator (+11%) or  a computer systems analyst (+9%).
Bachelor of Science in Economics – Business
This is an ideal degree for those who are seeking jobs that involve applying statistics or complex economic knowledge, including operations research analyst (+27.4%), market research analyst (+23%) or economics professor (+6%).
Bachelor of Science in Health Education & Health Promotion
Another health-related degree, this course of study will help prepare you for fast-growing jobs that promote healthy lifestyles, such as licensed practical and licensed vocational nurse (+12.3%), physical therapist aide (+29.4%), physical therapist assistant (+31%) or physical therapist (+28%), though it's important to consult your state's licensing rules to determine if you need other special certifications in your state.
Nursing – RN to BSN Degree
The RN to BSN degree is the perfect way for individuals who already have associate degrees in nursing and are registered nurses to level up in their careers. So this is the ideal degree for many professional nurses as either their last step or the next step on the ladder. Applicable job titles on this degree path include nurse practitioner (+36.1%), nurse midwife (+31%) and nursing instructor (+24%).
Bachelor of Arts in Business (Global Logistics Management)
With an increasingly complex global supply chain, all industries need individuals with a solid understanding in all the related issues. Those with this degree can pursue careers as logistician (+7%), meeting and convention planner (+11%) and cost estimators (+11%).
Bachelor of Arts in Business (Business Administration)
With a degree in business administration, individuals prepare themselves for careers in all types of industries, including jobs as management analysts (+14.3%), sales engineers (+7%) or human resources managers (+9%).
Master of Science in Nutrition Dietetics
Built for registered dieticians looking to add modern tools to their skill set, this degree helps individuals build business skills, such as computer literacy and problem solving. Graduates from this program could go on to work as nutritionists (+15%), health specialties instructors (+25.9%) or registered nurses (+15%).
Bachelor of Arts in Global Health
A global health degree enables individuals to build practical skills related to healthcare, understanding disease and improving the well-being of people. Jobs with high growth include  massage therapist (+26.3%), occupational therapy aide (+24.7%) and health services manager (+20%).
Master of Science in Construction Management
Individuals interested in becoming upper-level real estate developers or construction project managers will be well-served with this degree. Whether working hands-on as a laborer (+12.4%), controlling entire job sites as a construction manager (+11%) or ensuring work is done properly as a building inspector (+10%), these graduates can focus on new structures or renovating and restoring existing buildings.
Master of Science in Information Management
With a degree focused on building technical of modern and emerging technology infrastructures, individuals with this degree can expect to work in senior roles as system administrators (+6%), information security analysts (+28.5%) or network architects (+6%).
Bachelor of Science in Geographic Information Science
With this versatile STEM-based degree, individuals could work in hands-on, physical roles like landscaping engineer (+11.3%), surveyor (+11%) or cartographer (+19%) or office-based functions like geographer (+7%) or computer information research scientist (+19%).
Bachelor of Arts in Business (Corporate Accounting)
An individual with a specialty in modern corporate accounting will be able to help their employer analyze the financial aspects of potential decisions and recommend the best course of action in addition to simply helping "balance the books" or other more traditional accounting roles. Occupations appropriate with this degree include the aforementioned accountant or auditor role (+10%) but also financial manager (+19%) or loan officer (+11%).
Master of Advanced Study in Health Informatics
The rapidly growing healthcare field isn't limited only to those who deal directly with patients, as a Master of Advanced Study in Health Informatics degree can prepare you for jobs as medical secretaries (+22.5%), EHR analysts (+13%) or epidemiologists (+9%).
Bachelor of Science in Geography
With a degree focused on the earth and natural sciences like weather and climate, along with environmental science, individuals with this degree have a wide range of potential occupations, such as forest fire prevention specialist (+26.6%), meteorologist (+12%) or hydrologist (+10%).
Bachelor of Science in Health Sciences (Healthy Lifestyles Coaching)
Individuals who are passionate about improving health, lowering risk of chronic disease and improving well-being through behavioral changes will be drawn to this degree. Potential occupations include personal care aide (+38..6%), health educator (+16%) and counselor (+23%).
Master of Computer Science
With an advanced degree like a Master of Computer Science, graduates learn about cutting-edge topics like AI and machine learning, data science and cybersecurity. Applicable job roles include software developer (+30.7%), web developer (+15%) and computer scientists (+19%).
Bachelor of Science in Biological Sciences
With rapidly advancing medical technology becoming more common in everyday practice, it's still important for those who want to work in medical-related fields to become experts in biology. Individuals with this degree could work in ultra high-tech jobs as genetic counselors (+29%) or hands-on roles like phlebotomist (+24.5%) or physician assistant (+37.3%).
Bachelor of Science in Family & Human Development
The understanding of human and family development is the central focus of this degree, and graduates can find work as occupational therapy assistants (+28.9%), social workers (+16%) or school counselors (+13%).
Master of Science In Business Analytics
In our data-driven world, businesses rely on advanced statistics, financial modeling and sophisticated analysis to function efficiently. With this versatile degree, a graduate could work as a financial manager (+18.7%), a marketing specialist (+10%) or an HR manager (+9%).
Bachelor of Arts in Business (Food Industry Management)
It's not always glamorous, but the restaurant and food industries are huge and enormously complex. From food preparers (+16.8%), food scientists (+7%) and cooks (+11.8%) to agricultural engineers (+8%) and restaurant managers (+8%), food industry management is a diverse field.
Bachelor of Arts in Business (Global Leadership Degree)
Business-minded individuals concerned about the state of the world will be particularly attracted to a Bachelor of Arts in Business with a focus on global leadership. Whether they're working as market research analysts (23.3%), community service managers (+18%) or training facilitators (+10%), those with a global leadership focus are trained to consider the global impact of their jobs.
Conclusion
Online degrees are attractive for experienced professionals, those just at the start of their adult lives or individuals looking for a change, and ASU Online programs offer no shortage of in-demand degrees that can help a person advance or transition to a high-growth career.
References