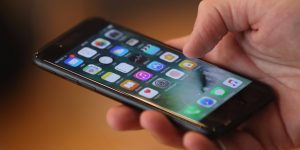 Managing a small business means always being on the run. It doesn't matter if you're stuck in traffic, attending an industry conference, headed to a meeting with an important client, or just checking in from home after dinner. You're probably just as likely to be working away from the office as you are from inside it. That's why it's vital to have access to the tools and information you need at all times.
Luckily for us, software developers have put a great deal of effort into creating powerful mobile applications for small business management. They'll let you do a variety of things, from accepting credit card payments to streamlining company communications to managing projects. To help you cut through the clutter, we've put together 34 of the most interesting:
Productivity Apps
Toggl (Android and iOS)
Toggl is simple – it allows you to easily track your time. If you're a freelancer working on billable hours, it's a must-have. One of the most useful features, however, is the ability to label specific tasks and receive reports about how you're spending your time. If you find that you're not getting enough done in the day, Toggl provides an easy way to analyze where time is being wasted.
Workflow (iOS)
Workflow allows you to make macros, known as workflows, on any iOS device. Any task your mobile device can handle can be developed into a shortcut. If you're constantly handling the same tasks manually, taking the time to learn Workflow will make you much, much more productive.
Box (Android, iOS)
Box makes it easy to share files between multiple mobile devices, computers and even people. You'll be able to access and view files instantly, edit them when necessary and track changes by providing feedback.
Wunderlist (Android, iOS)
Wunderlist provides an easy way to access and update your to-do list You'll be able to create and update your lists on the fly and share them with your employees with a click. It syncs across all devices so you'll be able to update your progress no matter where you're at.
Google Drive (Android, iOS)
Google Drive is a really handy way to access documents across all devices. Using Google Docs, you'll be able to create word documents, spreadsheets, and even slide presentations the same way you would use Microsoft Office, all for free. You can even share these documents with other people with view-only or edit permissions.
RescueTime (Android)
If you're not as productive as you should be with your mobile device, RescueTime will keep you accountable. It tracks exactly how much time you spend on every single app, so you can see exactly how much time you're spending browsing Reddit or looking up new recipes on Pinterest. With a premium account, you can even block certain apps during specific times or receive automatic notifications when you've spent too much time on one. Currently, there is no iOS version of RescueTime but according to the developers it is currently nearing release.
Communications Apps
Slack (Android, iOS)
One of the fastest-growing business tools available today, Slack makes it easy to collaborate and communicate with people anywhere you go. You can quickly create teams for group chats, send private messages, or share files. Slack also has a robust portfolio of apps and integrated third-party services, allowing you to consolidate even more information into the app.
MobileDay (Android, iOS)
MobileDay cleverly solves a common, yet forgotten problem many businesspeople run into – managing their conference calls. Each call has its own unique phone number, pin, and sometimes even an attendant code. MobileDay syncs to your calendar and lets you dial into a conference automatically with a single click so you don't have to scour old emails or your calendar invites for an updated pin number.
Stride (Android, iOS)
Stride fits the bill as a simpler, less expensive version of Slack (even though Slack does have a free version for smaller teams). You'll be able to chat with your teams or individual employees and share files in a very simple and intuitive way.
Skype for Business (Android, iOS)
Skype for Business makes it easy to set-up and share meetings with people inside and outside of your organization for free. It integrates directly with Office so you can share files easily. It also includes the features of traditional Skype, so you can send instant messages and initiative video chats with ease.
Pushover (Android, iOS)
Pushover solves the problem that anybody with multiple business or personal cell phones faces – organizing and consolidating your messages. Any messages sent to one of your connected devices will be forwarded automatically to a shared space, making it easy to check all your messages at once or search them all easily.
Addappt (Android, iOS)
An upgraded address book, Addappt makes sure that your contacts are always current by automatically updating whenever one of your contacts updates their information. You can also set handy reminders for important dates, such as meetings, deadlines, anniversaries or birthdays.
TapeACall (Android, iOS)
If you often find yourself taking notes during calls or wracking your brain to remember a conversation, TapeACall has you covered. With the click of a button, you'll be able to start recording any inbound or outbound phone call and have the file uploaded instantly to a file-sharing account like DropBox or Google Drive, or simply saved to your device.
RingCentral (Android, iOS)
If you need to have a dedicated desk phone but are constantly traveling, RingCentral makes it easy to handle all your phone calls. You'll be able to log onto your mobile device and take any incoming calls, access your voicemail, and even organize video conference calls.
Finance Apps
Square (Android, iOS)
If you're looking for a simple point of sale system, Square is perfect. You'll be able to accept any major credit card directly through your mobile device via a magstripe or chip reader, or a tablet in a specialized stand. If you're constantly traveling and selling in a variety of locations, Square is quite handy.
Wave (Android, iOS)
If you're constantly sending invoices, estimates, or receipts to your customers, Wave is incredibly useful. With a simple interface, you can create any of these documents in less than a minute while maintaining a professional presentation. You can even track expenses and invoices, connect directly to your bank accounts and scan receipts.
Xero (Android, iOS)
Xero is a full-blown accounting app that lets you pay and organize bills, manage payroll, and handle your invoices easily. Data is synced across multiple devices so you can access your information whenever you need it. It's built specifically to be easy for mobile business users, and even reconciles bank transactions automatically.
Dwolla (Android, iOS)
This app doesn't handle credit card payments, but it's extremely useful for allowing users to make direct bank transfers. You can easily initiate transfers, let users create recurring payments, and verify bank accounts. Best of all, Dwolla's basic services are completely free.
Organizational Apps
Pocket (Android, iOS)
Small business owners are busy. It's not unusual for you to run into an interesting piece of content but unfortunately not have the time to dig into it at that moment. That's what Pocket was developed to handle. Simply save any video, article, or any other piece of content away for later with Pocket and you'll be able to access it on any device.
Trello (Android, iOS)
Trello is a project management app that makes it easy to organize and track the progress of any project or task you're working on. If you handle the same task regularly, such as writing a blog post, you can create a template. Best of all, Trello makes it easy to collaborate so you can check on somebody's progress with having to constantly ask for an update.
CloudMagic / Newton Mail (Android, iOS)
If you have multiple email accounts it's often time-consuming to look for a specific piece of information when you're not even sure where you received it in the first place. That's where CloudMagic comes in. You'll be able to search across multiple email platforms, or even other services such as Evernote or Pocket in a single intuitive interface.
Evernote (Android, iOS)
If you have a lot of quick thoughts that you need to jot down and access later, Evernote is perfect. It has a simple interface and syncs across multiple devices with a single free account. You can even use Evernote to handle to-do lists.
TripIt (Android, iOS)
If your small business takes you all over the country or the world, you'll find that TripIt is a major time-saver. TripIt organizes your travel plans from flights to car rentals and keeps track of them. You'll receive alerts if anything changes and be connected to alternatives if there's an issue or a delay. It even saves your itineraries so that you can view them offline and avoid expensive roaming charges when you're on the road.
Marketing Apps
Salesforce1 (Android, iOS)
This powerful application was designed with one goal in mind – to let you run your business from a mobile device. All customer information is funneled into this simple interface, and you can build a customized control panel that gives you a snapshot of your business wherever you are.
Streak (Android, iOS)
If you're running your small business email communications out of Gmail, Streak helps turn it into a full-blown CRM solution. You can organize customers by where they are in your marketing funnel and quickly view all your messages with them. Within Streak, everybody on your marketing or sales team can collaborate and share the documents they need to assist your clients.
Insightly (Android, iOS)
Insightly is another CRM suite with powerful mobile applications. In addition to being able to manage and access your customers and their information anywhere you go, even integrating their social media presence on your system. There's also some light project management features such as being able to create tasks for your employees and setting reminders for them. If you're looking for a one-stop app to manage your customers, employees and projects, Insightly could be the perfect solution.
Nimble (Android, iOS)
For a small business that has a major social media presence, Nimble is extremely valuable. It pulls data from your audience's social profiles automatically, and provides that information to your other contacted applications like Gmail or Outlook. It can even analyze your audience's other interests so that you can sharpen your messaging.
Canva (Android, iOS)
Canva is a powerful mobile design app that lets you create beautiful images, edit photos, and design a variety of documents including newsletters, brochures, flyers, labels, letterheads, posters and much, much more. It's a great tool for companies that have to do some design work on the fly but don't have a dedicated design team.
Miscellaneous Apps
1Password (Android, iOS)
You probably have to log into many different systems in a single day. Your email, bank accounts, customer databases, social media accounts, etc. In order to keep them secure and your business safe, you need to use different passwords for each, leaving you with the burden of remembering them. 1Password conveniently remembers all of your passwords for you, and even shares them with users on a permission basis, with everybody only receiving the access that they absolutely need.
Shopventory (Android, iOS)
Shopventory is a robust real-time inventory management application that integrates automatically with a wide variety of sales systems such as Square. You can log onto Shopventory and check inventory levels at specific locations, analyze trends, and even view profit margins. Handy reports can help you identify which items are moving quickly and what might need to be discounted in order to sell.
When I Work (Android, iOS)
For companies with hourly employees, When I Work can be a lifesaver. You can schedule and send updates to your employees instantly with this app and they'll be able to access their schedule easily wherever they are. They'll receive instant alerts when schedules change and you can send out a message for an open shift in less than a minute. They'll even receive alerts before a shift begins. Best of all, When I Work is completely free for organizations that have 75 or fewer employees.
Clean Master (Android, iOS)
When you're handling so much important business on your mobile device you need to keep it secure and running smoothly. Clean Master handles both. It keeps your phone running at optimal performance levels and automatically clears space by getting rid of junk files and managing your cache. It even provides a free antivirus service by scanning for apps and removing viruses and trojans automatically.
Proven (Android, iOS)
Hiring is difficult for a small business. Whether you're expanding rapidly and trying to juggle multiple open positions at once or just hiring sporadically and struggling to find the time or focus, Proven has you covered. You'll be able to post to multiple job sites at once, saving you a lot of time instantly. Once you've posted your jobs you'll be able to respond within the app, and even organize candidates into different buckets.
Waze (Android, iOS)
Are you constantly driving around to meetings? Waze is a great navigation app, using community-driven data to provide real-time updates on traffic, road conditions, and detours. You'll always have the most accurate directions, saving lots of time and gas money.