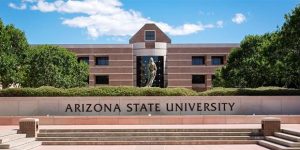 Arizona State University is a public university that is based in Tempe, Arizona. It was founded in 1885 and has a total on campus undergraduate enrollment of 41,800. ASU Online also features a highly rated online university with many undergraduate and graduate degrees to choose from. Online courses are highly interactive, tuition is affordable, and professors highly accessible.
Favorite Features
Offers over 150 Programs
ASU Online offers over 150 degree programs for both graduate and undergraduate in a number of popular subjects.
Ranked in Top 100 Most Prestigious Universities
Arizona State University continues to set themselves apart and establish a reputation of excellence. In 2016, ASU was recognized as one of the top 100 most prestigious universities in the world by Times Higher Education, the world's largest academic opinion survey.
High quality faculty teaches both online and on campus programs
Students who enroll at Arizona State University ASU Online have the chance to learn from some of the most experienced and accomplished professors in their fields. The online courses are taught by the same award winning faculty as those who teach the on campus courses.
ASU's faculty consists of many Nobel Laureates, Pulitzer Prize Winners, Fulbright American Scholars and Guggenheim Fellows, among other notables. Overall. ASU has 1778 tenured or tenure track faculty members and 1133 faculty members serving as research professors, lecturers or professors of practice.
Tuition is affordable, ASU is noted as a best buy
ASU was recently named as a best buy public college by the Fiske Guide to Colleges, based upon its combination of academics and affordability. This is because its tuition is very affordable.
For example, ASU undergraduate tuition ranges from $490-$633 per credit hour, regardless if you are in state or out of state.
For graduate students online, tuition can range from $492 to $1132 per credit hour. Again, in state and out of state students pay the same rate.
Even though tuition at ASU is affordable, more than 70% of all ASU students receive financial aid. In the 2012-13 academic year, 61,000 students were given more than $1 billion in financial aid, and more than $413 million of that was scholarships and grants.
W. P. Carey School of Business is accredited by the AACSB
When you are paying a lot of money and spending years to earn a degree, it is important to know that the degree is from an accredited program. Accreditation tells you that the degree program has met or exceeded high quality standards. This is especially important when you are considering an online business degree; these programs are still relatively new and having a stamp of quality and distinction will help the degree to be seen as valuable by potential employers.
For undergraduate and graduate business programs, the most respected and recognized accreditation agency is the AACSB or the Association to Advance Collegiate Schools of Business. The AACSB has been providing accreditation to business programs since 1919. The founding members are some of the most respected universities in the US. At this time 620 members in 38 countries are accredited by the AACSB.
The W. P. Carey School of Business is accredited by the AACSB. The accreditation process is rigorous and lasts at least two years. According to Bestbizschools.com, 86% of schools accredited by the AACSB say that the approval process was the most rigorous they have encountered.
It is important to note that virtually all universities in the US of note are accredited at the institutional level, but a business school with the AACSB accreditation has gone a step further to get a specialized accreditation that relates only to business management and accounting programs. So, AACSB schools have gone through a tough evaluation twice.
W. P. Carey online MBA is ranked in the top 5 by US News and World Report
The online MBA program at ASU is highly rated, including a top 5 ranking by US News and World Report.
Other attractive features of the online MBA are two convenient start times in January and August, and the MBA program only requires a single campus visit. This means that students with busy professional and personal lives can earn their degree almost entirely online.
Least Favorite Features
GMAT scores are required for admission consideration
Some online business graduate programs no longer require applicants to submit standardized test scores. Some evidence suggests that high GMAT or GRE test scores do not necessarily translate to a high level of success in graduate school.
Many universities place more value in their evaluation process of students on undergraduate GPA, work experience, interview, writing samples and recommendations.
ASU still requires students to submit GMAT or GRE scores for consideration for its graduate programs, including the MBA. The average GMAT score for MBA students who are accepted is 592.
See also 10 Incredible Online MBA Programs Without the GMAT
The average GRE score for MBA students who are accepted is 153 verbal, 152 quantitative, 4 analytical writing.
All online classes are recorded and viewed alone
ASU Online uses an asynchronous format for its online programs. This means that class lectures are recorded and the student views them on his or her own time. This could be viewed as an advantage to students whose schedules preclude them from participating in live classes online with set times.
However, some students will find taking classes alone without interacting with other students to be difficult. Many people do not realize the challenge that is presented by taking difficult classes online without any interaction with others.
This is especially the case with online MBA classes. Many people find the interaction with other students in an MBA program to be some of the most valuable experiences in the entire educational experience.
It should be emphasized that ASU Online does offer online chatrooms, web conferencing and Skype to interact with classmates. But the main classes you are taking are archived and recorded to be viewed on your own.
You should carefully consider how online classes will be delivered to you – either live or recorded – at whichever institution you consider.
Request Program Information
ASU Online features world-class undergraduate and graduate degrees in areas such as Health & Nursing, Business, Engineering, Education, Humanities, Criminal Justice, Legal Studies, and much more – all with the same curriculum and prestigious faculty as on campus. You can earn the exact same degree as you would while attending Arizona State University in person but with the added flexibility of learning on your schedule. No matter what path you pursue, the support and guidance you'll get from academic advisors and professors will empower and transform your future.
Same content, new delivery
Our online courses are highly interactive and encourage learning through collaboration with your professors and classmates. The online campus also provides access to the vast academic, research and career resources that ASU has to offer.
Learn from the best
The faculty of Arizona State University is made up of some of the brightest academic minds in the world. From Nobel Laureates to Fulbright scholars and Pulitzer Prize winners, our online courses provide you with a direct connection to their knowledge and expertise.
The ASU Difference
ASU was named the #1 university for innovation by S. News & World Report, ahead of both MIT and Stanford.
ASU is ranked #4 in the nation for Online Bachelor's Degree Programs by S. News & World Report.
ASU is an employer favorite; The Wall Street Journal ranked ASU as Top 5 in the U.S. for producing the best-qualified graduates.
ASU was ranked by Money magazine as one of the Best Colleges delivering the most value in the U.S.
ASU was ranked as one of America's Top Colleges in 2016 by Forbes
Follow your path, and find your purpose with ASU Online.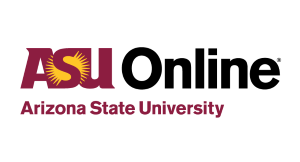 Undergrad Tuition: Inquire
Grad Tuition: Inquire
Application Deadline: Multiple
School Type: Non-Profit
Accreditations: CCNE, HLC, NCA, CEPH
Degrees Offered: Masters/Bachelors
Online Bachelors Degree
Anthropology (BA)
Applied Leadership (BAS)
Art (Digital Photography) (BFA)
Art History (BA)
Biochemistry (BS)
Biological Sciences (BS)
Business – Business Administration (BA)
Business – Communication (BA)
Business – Corporate Accounting (BA)
Business – Food Industry Management (BA)
Business – Global Leadership (BA)
Business – Global Logistics Management (BA)
Business – Retail Management (BA)
Business – Sustainability (BA)
Business – Tourism (BA)
Business Data Analytics (BS)
Communication (BS)
Community Advocacy and Social Policy (BA)
Community Health (BS)
Computer Information Systems (BS)
Criminology and Criminal Justice (BS)
Digital Audiences (BS)
Economics (BS) – Business
Economics (BS) – Liberal Arts
Educational Studies (BAE)
Electrical Engineering (BSE)
Engineering Management (BSE)
English (BA)
Family & Human Development (BS)
Film & Media Studies (BA)
Geographic Information Science (BS)
Geography (BA)
Geography (BS)
Global Health (BA)
Global Studies (BA)
Graphic Information Technology (BS)
Health Care Coordination (BS)
Health Education/Health Promotion (BS)
Health Innovation (BAS)
Health Innovation (BS)
Health Sciences (Applied Science BAS)
History (BA)
Information Technology (BS)
Integrative Health (BS)
Interdisciplinary Studies (BA)
International Public Health (BIPH)
Bachelor of International Public Health
Justice Studies (BS)
Liberal Studies (BLS)
Management (BS)
Marketing (BS)
Mass Communication and Media Studies (BA)
Nursing – RN to BSN
Nutrition (BS)
Operations Management (Applied Science BAS)
Organizational Leadership (BA)
Philosophy (BA)
Philosophy (Morality, Politics and Law) (BA)
Political Science (BA)
Political Science (BS)
Psychology (BA)
Psychology (BS)
Psychology – Forensic Psychology (BA)
Psychology – Forensic Psychology (BS)
Public Service and Public Policy (BS)
Emergency Management Homeland Security (BS)
Sociology (BS)
Software Engineering (BS)
Spanish (BA)
Speech and Hearing Science (BS)
Sustainability (BA)
Sustainability (BS)
Technical Communication (BS)
Technological Entrepreneurship/Management (BS)
Tourism and Recreation Management (BS)
Urban Planning (BSP)
Women and Gender Studies (BA)
Online Masters Degree
American Media and Popular Culture (MAS)
Biomedical Diagnostics (MS)
Biomimicry (MS)
Business Analytics (MS)
Business Journalism (MS)
Clinical Research Management (MS)
Clinical Research Management – Reg Science (MS)
Communication (MA)
Computer Science (MCS)
Construction Management (MS)
Criminal Justice (MA)
Autism Spectrum Disorders (MEd)
Early Childhood Education (MEd)
English as a Second Language (MA)
Gifted Education (MEd)
Digital Audience Strategy (MS)
Educational Leadership (Principalship) (MEd)
Educational Technology (MEd)
Electrical Engineering (MSE)
Emergency Management/Homeland Security (EMHS)
Engineering Science in Software Engineering (MSE)
Engineering Management (MEng)
Systems Engineering (MEng)
English (MA)
Executive Master of Public Administration (EMPA)
Family & Human Development (MS)
Forensic Psychology (MS)
Global Management (MGM) – Thunderbird
Global Security (MA)
Global Technology & Development (MS)
Graphic Information Technology (MSTech)
Health Informatics (MAS)
Healthcare Innovation (MHI)
History (MA)
Indigenous Education (MA)
Industrial Engineering (MS)
Information Management (MS)
Information Technology (MS)
Leadership and Innovation (EdD)
Legal Studies (MLS)
Master of Legal Studies
Liberal Studies (MLSt)
Materials Science and Engineering (MS)
MBA – Master of Business Administration
MBA/MS – Industrial Engineering
MBA/MSE – Electrical Engineering
Medical Nutrition (MS)
Nonprofit Leadership/Management (MNLM)
Nutrition (Dietetics) (MS)
Psychology (MS)
Public Safety Leadership/Administration (PSLA)
Science of Health Care Delivery (MS)
Social Work (MSW)
Sociology (MA)
Special Education (Applied Behavior Analysis)
Sustainability Leadership (MSL)
Sustainable Engineering (MSE)
Sustainable Tourism (MST)
Technical Communication (MS)
The Details
General Information
Founded in 1885
Application deadline: June 1 for MBA
Application fee: $60
School type: Public
Term Schedule: Semester
Location: Tempe, Arizona
Student-faculty ratio: 18:1
Tuition Rates
Online MBA: $1,215 per credit hour in state and out of state
Online bachelor's: $500 in state and out of state
Business Degrees
Graduate: Master of Business Administration, MBA/MS in Industrial Engineering, MBA/MSE – Electrical Engineering, Master of Science in Management.
Undergraduate: Business Administration, Business Communication, Business – Food Industry Management, Business – Global Leadership, Business – Retail Management, Business – Sustainability, Business Data Analytics, Management, Global Logistics Management, Business – Tourism.
Concentrations – MBA
Class Profile
57% male, 43% female
Total on campus enrollment: 51,984
Total online bachelor's enrollment: 23,672
Total online MBA enrollment: 408
Graduation and Retention Rates
4 year graduation rate is 45%
4% graduate within six years
86% of students return for their sophomore year, above the national average of 70.9%
6% of students failed to graduate within six years
US News Rankings
Best online graduate business programs (not MBA): 3
Best online bachelor's programs: 4
Best online MBA programs: 5
National universities: 129
Best colleges for veterans: 86
High school counselor rankings: 141
Student engagement rank (MBA): 17
Admissions selectivity rank (MBA): 16
Faculty credentials and training (MBA): 78