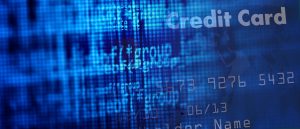 Reading Time:

8

minutes

<!- mfunc search_box_body ->

<!- /mfunc search_box_body ->

If you are interested in a finance career these days, you probably know about FINTECH, which is defined as the evolving intersection of technology and financial services. These are companies that are able to leverage new technology to create new, better financial services for consumers and businesses. FINTECH can include all sorts of companies that may operate in insurance, payments, asset management and personal finance management.

<!- mfunc feat_school ->

Featured Programs:

Sponsored School(s)
Sponsored School(s)
All school search, finder, or match results, as well as colleges and universities displayed as "Featured School(s)" or "Sponsored Content" are advertisers that compensate us for placement on this site. The resources, editorial content, and school evaluations published on this site are developed independent of the schools that advertise here.

<!- /mfunc feat_school ->

FINTECH is technology that is used in financial services to help firms to manage various financial aspects of their business, such as new software, applications, processes and business models.

"I think the biggest change is that people are going to receive financial help before they even know it. It's a combination of big data and artificial intelligence. We're going to be able to be more intelligent about people's spending habits, their health, their lifestyles. [We're] going to get more effective at predicting what they're going to need for different scenarios of spending and saving – when people are likely to get married, when you are likely to have a baby, etc…." (WIRED Money 2017 speaker Nick Hungerford, CEO of Nutmeg)

FINTECHs are largely start-ups that are in direct competition with traditional financial and banking institutions, and in some respects took them by surprise. Today, FINTECH operates in dozens of countries, and are slowly taken over small chunks of the financial services industry to provide financial products and services that were once only available through large financial institutions.
FINTECH Technologies
First off let's understand the technologies behind what powers FINTECH.
Artificial intelligence and new sorts of distributed ledgers, including blockchain, are the most important emerging FINTECH technologies. About 30% of large financial organizations are putting money into AI.
According to ZDNet.com, 60% of C-level executives in a recent survey conducted by Constellation Research said they will be increasing investment in AI in 2018 by 50% than in previous years.
Regarding blockchain, PWC has found that 75% of financial services firms intend to adopt blockchain as part of their in production systems and processes by 2020. But this is the big boys only playing catch up. FINTECH companies have offered AI, blockchain and cryptocurrency solutions to the public for years.
Featured Graphic Chart
The following chart from CBInsights (Global Fintech Report Q1 2018) is a data-driven look at global financial technology investment trends, top deals, active investors, and corporate activity.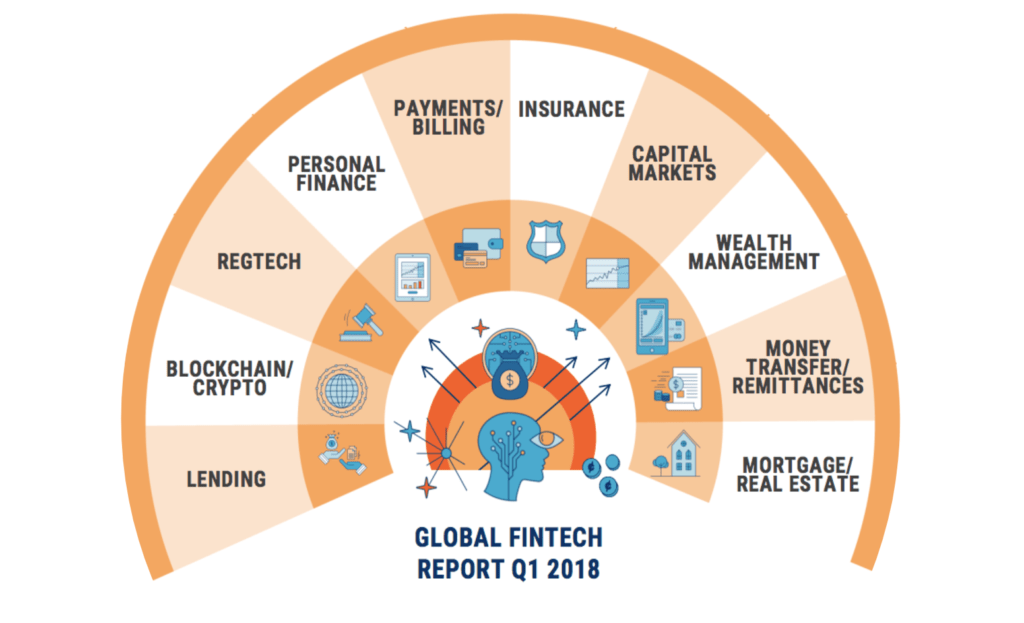 Because FINTECH is becoming so popular and part of the financial services industry, there are many tantalizing career options in the field for finance students and professionals to consider.
FINTECH Jobs of the Future
Because the main drivers of FINTECH are AI and blockchain, you'll see a number of jobs and degree options in these areas:
1. Blockchain Developer
This growth will greatly increase the need for blockchain experts, such as blockchain developers.
According to Hacknoon.com, requests for block chain programming talent are soaring. According to the freelance talent marketplace Upwork, blockchain rose to one of the fastest growing skills ouf of more than 5000, and there was a year over year increase of more than 35,000%.
Interested in becoming a blockchain developer? You should learn these programming skills:
Hyperledger Fabric: Enterprise blockchain framework that uses modularity and scalability to support changing business rules.
Ripple: Payment protocol for distributed payments, exchanges and remittances.
Solidity: Smart contract development on the network Ethereum.
2.  Apps Developer
The FINTECH apps market has seen spectacular growth over the last several years. Global app downloads and consumer spending have been hitting record levels, according to recent reports. The demand for mobile payment solutions and personal finance is only growing, as it is being driven by an appetite from younger generations of tech-savvy consumers.
Millennials also are more likely to use their increased ability to make payments securely on their phones.
Visa has reported more than ⅓ of users made a peer to peer digital payment over a mobile device, and ⅗ have sent money to family with a mobile device.
There will be a stronger need in future years for financial technology app developers to serve this booming market.
3. Financial Analyst
A financial analyst is responsible for managing budgets against incoming income forecasts. Depending upon the size of the firm, you could be an analyst for a single division or the entire company. Financial analysts assemble financial reports and do forecasts of incoming revenue, as well as run business studies. See full financial analyst salary outlook.
Financial analyst jobs in FINTECH are in great demand as startups continue to grow.
These new financial services businesses need financial analysts to manage their revenue, but they also need new graduates to work with clients to analyze the data through the use of whatever startup or tool the company has built.
Demand in this field is only going to grow, as venture capital funding in FINTECH hit $13.6 billion in 2016.
4. Product Manager
Product managers are now regularly needed to handle the oversight of many FINTECH products. For example, a listing on Linkedin.com has an opening for a Senior Product Manager for a well funded blockchain startup that works in the data security space. Product management work dovetails with initiatives in cryptography, encryption, online identity and security.
The product manager will design, architect, and develop a decentralized blockchain network that allows strong data security, strong control of data, easy integration, creation of new profit centers and reduction of cost.
Skills are needed in Agile and Scrum, as well as three years of experience as a technical product manager. See full salary outlook for product manager.
5. Compliance Expert
As the regulatory burden in FINTECH grows, there will be more compliance experts, compliance officers, and compliance analysts working in these financial companies.
In fact, the major area in finance that has seen steady job growth since the financial crisis has been in compliance, legal and risk areas, Reuters says.
The Wall Street Journal has even wrote that compliance officer is one of the hottest jobs in the country. See 5+ best compliance management degree programs.
6. Cybersecurity Analyst
Online thieves and hackers always go where the money is. Financial services will always be a major target. According to research from IBM's X-Force research team, the financial services industry has been attacked more than any industry since 2016. But the cyberskills security gap is large and growing. See 5+ best Cybersecurity degree programs.
A report by Cybersecurity Ventures recently estimated that cyber crimes will be triple the number of job openings in the next five years. There also will be at least 3.5 million unfilled cybersecurity positions by 2021.
Demand is red hot for these workers in FINTECH.
7. Quantitative Analyst
'Quants' are the smart people who write the big, complex financial models. They are the ones behind the data-driving trading technology that large investment banks and hedge funds use to trade securities and analyze risk. As big data continues to rise, quants are becoming more important in FINTECH to devise models that can sort through the massive amount of data and automate them so that trading can be a mostly automatic process. See 5+ best quantitative analysis degree programs.
The Wall Street Journal recently wrote that the quants now run Wall Street. There are so much in demand that their compensation packages can be as high as $500,000 per year.
These math, computing and finance experts are also sought by FINTECH companies; quantum computing is important to develop the algorithms of the future.
8. Culture Champions
Sure, this sounds like a feel good job title, but for FINTECH firms, a positive, innovative and entrepreneurial image is important to success as their employees are the best advertisement for their brand. FINTECHs must ensure all workers are happy and fulfilled.
Keeping talent is so important because hiring the most skilled candidates in the biggest expense of the FINTECH, but also is vital to future development. HR champions and culture evangelists who can build and maintain a diverse workplace will be in great demand.
9. Business Development Manager
Business development managers are very important in FINTECH organizations because they help to generate new income and help many startup companies to grow. Business development managers look for new markets, new business partnerships, and new ways to tap existing markets. See full salary outlook for business development managers.
Business development managers also:
Generate new leads and call on cold prospects to sell FINTECH services
Develop new opportunities in new target markets with marketing support
Nurture and develop business relationships with new FINTECH accounts
Provide specific advice on the FINTECH product or service you are selling
10. Data Specialist
Deloitte recently highlighted the important strategic role of data in a report with the World Economic Forum about trends affecting the financial services industry. Innovation that emerges will allow financial companies to have access to new sets of data, including social data, and allow new ways to understand markets and customers. See 5+ best data analytics degree programs.
As clients are more empowered by the Internet and digital technologies, clients are becoming more proactive and want new financial services companies to give them more individual services tailored to their needs. So, there will be a need for data scientists, chief data officers, financial data analysts and data analytics managers needed to sift through information that can provide more insights into their markets.
Suggested FINTECH Job Skills
If you want to position yourself to be recruited for a lucrative FINTECH job, below are the most popular technology skills searched for by recruiters in the eFinancialCareers CV database:
Java: This programming language is nearly always in job descriptions for investment bankers. It is the programming language that causes headaches for recruiters because there is a shortage of talent. Banks want Java workers to work on order management systems, low latency training programs and more. JP Morgan, Goldman Sachs and UBS all want Java programmers.
Business/Finance analyst: Higher demand suggests that banks are thinking in a strategic way about implementing new IT projects. Banks are hiring process change specialists who understand how to do overhauls of back office products and also compliance reporting.
C#: The big buzz phrase is 'building risk weighted asset tools.' In the risk and analytics team, and possibly partnering with offshore developers C# programmers who can assist banks to devise tools to calculate RWAs are in high demand.
Murex: Most jobs that want this knowledge are less about a specialist in the language and more focused on having familiarity with it in a broader list of technical skills. Many consultancies want Murex as an important skill on their strategy teams. Quants also are wanted with this knowledge so they can integrate analytics with Murex.
Python: This is a red hot skill for developers in the financial sector. Major banks such as JP Morgan and Bank of America Merril Lynch are employing thousands of developers cranking out Python code. It is becoming a mainstream language for many software products. The trend these days is to bring in Python developers for new interest rate derivatives platforms.
Who's Hiring: Current Open FINTECH Jobs
So who is hiring in FINTECH? The question is more like, who is NOT hiring? A brief review of open FINTECH jobs listed on Indeed.com reveal companies hiring for these positions:
Bank of America – SAS/SQL Analytics and Reporting Analyst
TradePMR – Help Desk Engineer
ETFLogic – Fintech Quantitative Developer
OppLoans – PostgreSQL DBA
Frog – Senior Strategist Financial Services
Perpay – Data Analyst
Wachsman – Strategy Analyst/Associate
Correlation One – Business Development Associate
Passport – Associate Product Manager
Acorns – Finance and Strategy Analyst
Figure – Associate Product Manager
Shogun – Associate Product Manager
Finicity – Junior Developer
Liberty Lending – Entry Level Finance
E*Trade Financial – Visual Designer
Bank of America – BP, Customer Loyalty and Engagement
Unison Home Ownership Investors – Treasury Manager
TradePMP – Help Desk Engineer
Fintch/Insurtech Space – Senior UI Architect
Coinbase – Senior Financial Analyst
CITI – Engineering Manager FINTECH
CITI – FinTech Product Manager
FINTECH is a rapidly growing space that most students and professionals will want to learn more about in the future, as so many high-paying jobs are going to be in this sector.
More on BusinessStudent.com
References