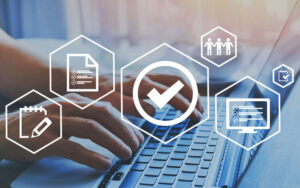 <!- mfunc search_box_body ->

<!- /mfunc search_box_body ->

Reading Time:

9

minutes

If you are considering an online MBA to help meet your business and career goals, you've already got a lot on your mind. Your head is buzzing with thoughts of concentration options, research and internship opportunities, class offerings and how you're going to manage it all.

<!- mfunc feat_school ->

Featured Programs:

Sponsored School(s)
Sponsored School(s)
All school search, finder, or match results, as well as colleges and universities displayed as "Featured School(s)" or "Sponsored Content" are advertisers that compensate us for placement on this site. The resources, editorial content, and school evaluations published on this site are developed independent of the schools that advertise here.

<!- /mfunc feat_school ->

It's a lot to think about even before you start considering the importance of accreditation, but if you want your MBA to take you all the way to the C-suite, it's definitely something you need to be thinking about.

When weighing your options for an MBA, you're probably more excited about reputation, flexibility, specializations, and instructors. Those are all important pieces of the puzzle, to be sure, but so is accreditation.

An MBA is a serious investment in your future. It's going to be the first line on the resume that prospective employers look at, and it will set your business philosophy and help you develop the kind of leadership and communication skills that will set you apart from the crowd. It's also a substantial financial investment, so you want to make sure it meets the highest quality standards so you can bank on a substantial return.

Why Pursue an Online Business Degree? We Have 11 Awesome Reasons Why You Should Study Business!
What Is Accreditation and Why Should You Care?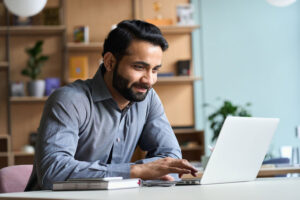 Earning accreditation is the process of demonstrating that an entire university, single department or individual program meets a set of established standards. In your MBA training, you're going to learn all about systems for quality assurance. Business school accreditation is essentially the application of that same basic principle to business education. Trust us, you will learn to appreciate it!
Accreditation is a process of peer review. Business school accreditation bodies don't just evaluate schools—they are composed of and funded by the schools themselves. The standards are a collective set of qualifications that the educational and business communities decide are key for MBAs and other business school graduates.
Accreditation breaks down all the pieces that go into providing a comprehensive education, giving attention to things like:
Instructor hiring and evaluation
Curriculum development and review
Funding and educational resources
Advertising and marketing efforts
Grading and appeals processes
Administrative procedures
To evaluate all those different areas, accreditation bodies put the schools to work filling out stacks of forms and providing reams of documentation. To double-check it all, accreditors send out teams of evaluators to visit the campus and review everything in-person.
Picture a bunch of suits with magnifying glasses—that's an accreditation review team.
If that isn't stringent enough, the whole process will happen again after a few years. Accreditors require on-going proof of compliance to renew their stamp of approval.
So, you can see why university accreditation requirements are a pretty solid reflection of the kind of education you will get. It impacts the connections you make, the knowledge you absorb, the skills you develop. And that has massive impacts on the success of your business career.
What Accreditation Should a College Have?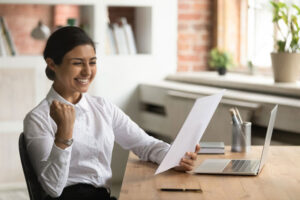 The question of what kind of university accreditation a college should hold depends a lot on the degree programs it offers. Most highly-respected universities hold several different accreditations specific to different departments, and some that even drill down to individual programs.
When it comes to accreditation, business schools actually have to check off a couple different boxes. For you to seriously consider a business degree, the university should have at least two accreditations:
A general accreditation from a national or regional institutional accreditor recognized by CHEA (the Council for Higher Education Accreditation) or the U.S. Department of Education USDE, or both
A specialty accreditation from one of three different business-focused accrediting organizations, also recognized by CHEA
Regional and National Institutional Accreditation Organizations
In general, every American college or university will hold at least a general institution-level accreditation from a regional or national accreditor. This is a broad overview of the university's shared standards, policies, and resources that back up every individual school or department.
For years, the gold standard at this level were the six big regional accreditors:
As education has moved online, programs that once served a particular region now pull in students from around the world. This means that accreditation is now more national and even global in scope. Since 2020, USDE stopped making a distinction between regional and national accreditation. They now just refer to these kinds of general accrediting bodies as institutional accreditors rather than regional accreditors.
This kind of accreditation is key to keeping quality standards high, but just as importantly to the vast majority of students, it qualifies schools to receive FAFSA funding through federal student financial aid programs.
There are two other major institutional accrediting bodies that never operated with any regional restrictions, but one has a questionable reputation even though it's currently listed with the USDE:
Distance Education Accrediting Commission – DEAC has been looking at issues of distance-learning accreditation for a long time. Originally founded in 1926 as the National Home Study Council, it made the pivot to evaluating online programs quickly and easily.
Accrediting Council for Independent Colleges and Schools – ACICS also goes way back, founded in 1912. It offers accreditation to institutions offering programs in technical, professional, and occupational fields. It is currently recognized only by USDE, but has many calling for its removal due to dubious standards and enforcement.
How Accreditors Themselves Earn Accreditation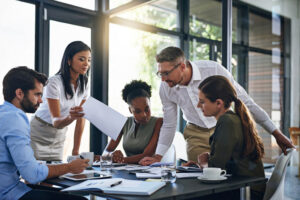 As we noted earlier, there are two agencies who watch the watchmen, deciding what accrediting organizations are legitimate:
The Department of Education (USDE) recognizes accrediting agencies for the purpose of granting federal funds for schools. The government doesn't want to examine each school itself, so instead it evaluates accreditors. If the accreditor meets USDE requirements, then the schools it accredits are also assumed to pass muster.
The Council for Higher Education Accreditation (CHEA) is a private non-profit that offers an alternative to USDE. It is more focused on academic quality than funding. Made up of a group of accreditation bodies, which are made up of schools themselves, it is not subject to political influence.
Title IV of the Higher Education Act of 1965 was built to make sure the government wouldn't be throwing money away with Pell grants or student loans on fly-by-night diploma mills. Meeting accreditation requirements set by an accreditor recognized by USDE is the price of admission to receive those funds.
Recognition by CHEA and USDE is the Best of Both Worlds for Institutional Accreditors

Why is that important? Well, consider the saga of ACICS. Delisted by the Department of Education and CHEA both in 2016, it was reinstated by USDE in 2018 under a different presidential administration. Once the White House changed hands again, ACICS was shortlisted for removal once again.

If you're interested in academic quality as well as federal loans and grants, then looking for accreditors that have the stamp of approval of both organizations is key.
Specialty MBA and Business School Accreditation Can Be Both National and International in Scope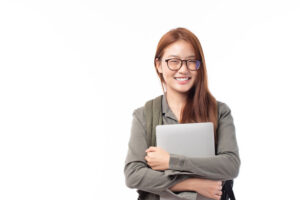 On top of that all-important general accreditation, certain departments or schools at the university might also hold specialty accreditations. Specialty accreditation is offered at the department or even the program level. It takes a more focused look at the specific type of education required for those degrees, evaluated by specialists and experts in particular fields.
Business school accreditation falls into this category—all of the business school accreditation bodies here focus only on MBA and other business degrees when giving out the stamp of approval.
Although CHEA will recognize specialty accreditors, the USDE gives them less attention and is less likely to review them at all since they have no bearing on a school's eligibility for federal loan or scholarship funding.
Business school accreditation bodies have both B-school members and input from the business community to take into account. They ensure that the curriculum and concepts match up with the current needs of the market—a key idea you'll learn all about in your online MBA studies.
Specialty accreditation is a step beyond general accreditation. It uses similar processes and procedures, but goes a lot further, looking at specifics in:
Curriculum design and coverage
School partnerships with business and research entities
Specific types of training valuable to the industry
There are three globally recognized specialty accreditors for business schools. Each of these has its own reputation and has carved out a kind of niche within the B-school community. Each has the specialized expertise and experience to accurately ensure that your MBA curriculum, faculty and business school resources are all top-tier.
The Association to Advance Collegiate Schools of Business (AACSB) Accreditation Overview
AACSB accreditation is recognized in many quarters as the most sought-after business education endorsement; only five percent of the world's 13,000 business programs hold this accreditation. Virtually all Ivy League business programs are accredited by the AACSB; many of companies only offer reimbursement for MBAs offered at AACSB-accredited schools.
AACSB works in a sort of feedback loop to maintain this elite status—it includes criteria that schools that it accredits offer excellent career opportunities as part of their qualification. Graduates from these programs are seen as more desirable to employers because of the exclusivity and quality.
The association was formed in 1916, making it the oldest of the three agencies. It's generally better known among employers and educators because it has been in existence for more than a century.
Today, the AACSB offers accreditation at both the institutional and programmatic levels for bachelor's, master's, and doctoral degree programs.
In all cases, the business school must offer high quality business and accounting programs. It has to withstand the most rigorous process of both self-evaluation and peer review. From the start, this process begins with an initial submission, progresses through a one year period of evaluation, and then finally an approval application. Even after that, each school undergoes a 60 month review to ensure they are keeping up with those standards.
AACSB withdrew from CHEA in 2016. As an alternative, the organization instead pursued and earned ISO 9001 certification in 2019—a quality management system certification right in line with the best practices taught in B-school!
Ready To Take the Next Step in Your Search for Online Business Programs? Learn How To Choose The Best Business Major Here!
Accreditation Council for Business Schools and Programs (ACBSP) Accreditation Overview
The ACBSP is newer than AACSB, having been established in 1988. ACBSP was created to open up new opportunities for business school accreditation outside the tightly controlled roster of AACSB. Representatives from 150 different schools gathered to encourage a balance between research and teaching, offering more opportunity for accreditation at programs with an academic focus.
Since its creation, ACBSP has accredited more than 3,000 programs at 1,000 campuses across the globe.
So ACBSP is seen as being more accessible and flexible than AACSB. It holds specialty accreditation recognition from CHEA. It accredits private and religious institutions as well as public schools.
The ACBSP was the first specialty business accreditor to offer accreditation at every college degree level in various business-related disciplines. It also offers a separate accounting program accreditation option.
ACBSP promotes the need for regular and continuous improvement in universities; they feel this is of the highest importance in business to improve the quality of MBA curriculums. The agency also sends out trainers to work with faculty and staff through the accreditation process. Schools that have gone through it offer high marks for helping to develop their staff and foster continuous improvement processes.
Although ACBSP is often thought to place research second and academics first, reversing the reputation of AACSB, school research still holds an important place. To that end, the council hosts events at which faculty are encouraged to present and publish their work.
International Accreditation Council for Business Education (IACBE) Accreditation Overview
Just like the name says, IACBE was originally established to offer an internationally-focused alternative to ACBSP and AACSB. It offers accreditation at all levels of post-secondary education, and includes a specialized accounting program option.
The IACBE process does more than just evaluate candidate schools. On-site IACBE evaluation teams work with schools in areas where they may fall short of criteria, helping to bring them up to standards.
The council prides itself on no two evaluations ever being identical. IACBE views the outcome as being more important than the process. Evaluators keep an open mind and welcome innovative educational approaches that still come up to standard. The founding principles of the council were to offer an accreditation process that was mission-driven and outcomes-based, and it continues to hold to that idea today.
Schools with IACBE accreditation don't come out of a cookie cutter, but you can expect them to be judged on the basis of strong ethical and professional standards.
Any of these three specialty accreditors can put a stamp on the quality standards of online MBA programs. Your final decision about which degree to pursue will probably come down to other factors, but you can rest easy knowing that accreditation safeguards your knowledge, skills, and the reputation of your program.
Looking to Get an Accredited Business Degree? Check Out Our List of Fully Accredited Business Schools Offering Online MBA Programs Today!