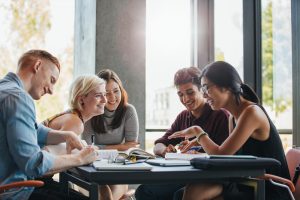 Reading Time:

6

minutes

<!- mfunc search_box_body ->

<!- /mfunc search_box_body ->

If you have ever asked your boss for a higher salary, you know that this is not always the conversation you look forward to. That is why many people put it off and hope beyond hope that their bosses will just notice everything they do and will give them a raise without asking.

<!- mfunc feat_school ->

Featured Programs:

Sponsored School(s)
Sponsored School(s)
All school search, finder, or match results, as well as colleges and universities displayed as "Featured School(s)" or "Sponsored Content" are advertisers that compensate us for placement on this site. The resources, editorial content, and school evaluations published on this site are developed independent of the schools that advertise here.

<!- /mfunc feat_school ->

Getting tuition reimbursement for an MBA is another item that many people do not like asking for, but they should. People with an MBA have been shown to have better skills that pay off for employers in the long run. It is reasonable to expect many employers to invest in you by paying for your MBA, as long as you agree to stay at the company for a reasonable period of time once you have your degree.

If you want to make a strong case to your company to fund your business graduate degree, here are some tips:
Know Your Company's Tuition Reimbursement Policy
Getting reimbursed for all that hard work for your MBA always begins with doing your homework. Review the employee handbook or talk to your HR department to determine what the tuition reimbursement policy is. Also, you should consider the company's present financial situation to time your inquiry for the best possibility of success.
For instance, it probably is not a stellar time to ask for MBA tuition reimbursement after a major round of layoffs. On the other hand, if the company is doing well financially and just awarded handsome year end bonuses, this could be a smart time to ask for financial assistance.
Many companies expect you to pay for the tuition on your own for each semester of courses you take. After you show you have earned at least a B in each course, they will reimburse you for the tuition paid. But every company is different, so be certain you check with your HR department before you make any educational commitment.
Talk to Other MBAs at Your Company
If your organization lacks a formal procedure for tuition reimbursement, it is wise to network with other employees. Speak to co-workers who have gotten their MBAs while on the job to determine if there is a precedent for the company paying for an MBA.
It is key to have good relationships and have allies at work in your effort to get your MBA paid for. These allies might be your direct supervisor and/or a mentor. When you first start thinking about getting an MBA, start the conversation at work with your co-workers about reimbursement. That way you will have a better idea of the financial picture when you are accepted at your choice of program.
Sell the MBA ROI Hard
Always remember to sell the benefits of getting an MBA for your company. Do not make it about you. Your employer wants to know how paying for your MBA and investing in you will help the company's bottom line. Getting a 20% raise may be great for you, but that is not benefitting your employer!
List for your company the specific benefits they will see by you having an MBA. How will it make you a better and more productive employee that increases profits? How will your newly developed skills help your department to solve complex business problems. Highlight the measurable benefits your company will enjoy by you earning your master's degree.
Highlight MBA Program Specifics
It is important to be very familiar with the MBA program that you want to attend. You should be able to give examples to your supervisor or HR decision maker about the benefits and strengths of the specific MBA program you want to attend. Being able to point out the specific benefits of the program will show that you have done your homework. It also helps to be as specific as possible about benefits to the company, and knowing your MBA program inside and out will make the picture clear for your firm.
Some MBA programs, such as the Wharton School of Business at the University of Pennsylvania, offer sample sponsorship requests that can help to sell your employer on covering the cost of the MBA.
Online MBA – Excellent Benefits to Employers
You also can stress to your employer that you can earn a high quality MBA online. Today there are many online MBA's from major, traditional universities that are highly regarded and AACSB accredited, such as these respected programs ranked highly by US News and World Report as well as the Editor's Choice Picks from BusinessStudent.com.
These top online MBA programs can generally be earned without leaving home and on your own schedule, but some programs may require attendance on campus from time to time. The convenience of the online MBA means you can continue to work in your job and earn your degree on the side. Further, many of the top tier online programs offer a GMAT waiver option. For career professionals with years of experience, this is one of many benefits. This can be a major selling point to your company because you will not miss significant work time as you earn your MBA.
Other benefits of an online MBA you can stress to your employer are:
Affordability: Online MBA programs can offer excellent value in terms of tuition cost. It is possible to find quality MBA programs that cost less than $50,000 total, with some available for as little as $25,000.
Choice: Taking an MBA program online usually means you can earn your degree at a university that is far from your city. This provides you with the opportunity to get a coveted MBA from a university hundreds or thousands of miles distant.
Immersion opportunities: Just because you are getting an MBA from home does not mean you will not have significant, rewarding business immersion opportunities. All University of North Carolina MBA students, for example, can experience four global immersions each year that give Kegan-Flagler Business School attendees the chance to gain major business experience in global business centers.
Enhance performance on the job today: By taking your MBA online and continue to work, you can bring what you are learning into the workplace right away, and deliver real improvements and ROI to the company as you are still in school.
Point to Work Performance
If you want to ask your company to pay for your MBA, your odds for success will increase by leaps and bounds if you have a strong track record of measurable results in the organization. Remember, asking for the company to pay for a $25,000 or $50,000 degree is like asking for a big raise. You need to show them that you are worth it.
Detail the measurable results delivered on key projects you led. If you can quantify the impact that you have had in terms of sales or saving money, this will really help your cause.
Understand Finances of the Degree
Asking your employer to pay for MBA tuition is vague. The organization will want to know exactly what it is likely to cost. Your MBA tuition reimbursement proposal should be very specific. Know in advance what the bottom line tuition cost is, as well as any other costs associated with the program.
Keep in mind that good business schools do not come cheap. The typical debt of college graduates from top business schools can exceed $100,000. You may find that your company will only pay for so much of the degree. In that case, you will need to find scholarships and/or loans to fund the rest of the program.
See 8 Other Kickass Ways to Creatively Finance Your MBA Degree
A common tuition reimbursement cap is $5250 per year per employee; this is the amount the IRS allows the company to tax deduct each year for each worker. But some of the biggest companies may fund the entire MBA for top workers, such as Deloitte, and BP funds approximately 90%. Some of the major US companies that fund up to $5250 per year include:
Anthem
AT&T
Bank of America
Best Buy
Home Depot
Ford
Wells Fargo
Scottrade
UPS
What's the Catch?
If you are able to get your company to pay for your MBA, or at least part of it, congratulations. But there is often a catch. You need to understand what the terms of the provisional agreement are. One of the biggest fears for the company is for you to walk after they fund your degree.
To prevent this, most employers will stipulate in a tuition reimbursement agreement that you stay with the company for a minimum number of years. This might be two, three, five or more. You can try to negotiate this number, but you could find the company will not budge on this one. The firm may also stipulate that you maintain a minimum GPA, maintain the same level of job performance, etc.
Before you sign anything, carefully review your personal career goals and ensure they are aligned with this company. Remember that you are in effect 'signing your life away' in a sense, at least for a few years. You will need to uphold your end of the bargain, stay in the same company especially, for a certain period of time. If you figure out later that working for this company post-MBA is not working out, you could end up having to pay the company back.
By following the above tips, you should have success getting your company to pay for your MBA degree.
Highest Paying Jobs to Get
The national average salaries listed below are for the best-paid business positions at the top of the career ladder. It may take you a few years to reach this type of salary, but the potential is definitely there for you to obtain great pay with enough work and dedication. See all 100+ highest paying business degree jobs as well as salary outlook for a business degree.
| Business Job Title | National Salary |
| --- | --- |
| Chief Medical Officer | $185,835 |
| Medical Director | $184,548 |
| Chief Technology Officer | $147,424 |
| Director of Engineering | $138,182 |
| Director of Pharmacy | $136,890 |
| Chief Marketing Officer | $136,769 |
| Data Scientist | $130,297 |
| Chief Financial Officer | $130,123 |
| Quantitative Analyst | $127,870 |
| Investment Banker | $125,041 |
| Network Architect | $123,709 |
| Chief Information Officer | $121,573 |
References