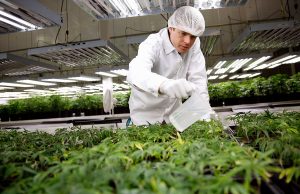 Reading Time:

8

minutes

<!- mfunc search_box_body ->

<!- /mfunc search_box_body ->

In recent years, eight states in the US have legalized recreational cannabis, and 20 more allow it to be used for medical purposes. Thus, the legal cannabis market is growing, with nearly $8 billion in sales in 2017, which will grow to a projected $24 billion in 2025. This growth has led to $745 million in state tax revenue from retail sales of cannabis, and potential of $2.3 billion in 2020.

<!- mfunc feat_school ->

Featured Programs:

Sponsored School(s)
Sponsored School(s)
All school search, finder, or match results, as well as colleges and universities displayed as "Featured School(s)" or "Sponsored Content" are advertisers that compensate us for placement on this site. The resources, editorial content, and school evaluations published on this site are developed independent of the schools that advertise here.

<!- /mfunc feat_school ->

Given the growth of the cannabis industry, it is natural that Americans are starting to look at how to land a job in the cannabis industry. This article is intended to guide you in how to work in this thriving industry, and some of the best marijuana jobs you can get today.
Cannabis Market Is Competitive
It is estimated that the legal marijuana market will add 80,000 jobs in the next several years.
And by 2021, through the direct and indirect effects of medical and recreational cannabis, there will be as many as 400,000 new jobs created. But, experts note, there currently are more people interested in jobs in the legal cannabis market than there are jobs. Those interested in the field will need to develop their skills and compete with many others who want the same work.
Various Job Sectors Available
The legal cannabis market has several major job areas. These include retailing, growing, infused products and ancillary services (software development, B2B sales etc.). If you are not certain where to look for cannabis jobs, thinking about these general job sectors and what their counterparts are in the traditional job world can help you to determine where to look for work.
If, for example, you have experience in the hospitality industry, restaurants or retail, you may be in luck. Employees who have worked in high volume industries with a high level of customer interaction are often in high demand at marijuana dispensaries. This is one of the biggest employment sectors in the cannabis industry.
The legal cannabis market is growing, with nearly $8 billion in sales in 2017, which will grow to a projected $24 billion in 2025.
Working is these customer-facing roles in marijuana dispensaries tend to be highly paid retail jobs. These stores often will pay quite well to hire people who have a high level of knowledge about various types of cannabis and are able to interact effectively with customers. Some high end cannabis retailers have been effective in luring good store managers from high end designer apparel stores, according to some sources.
On the technical front, laboratories are working on various infused products, such as candy, pizza and gourmet food. There is a need for technicians and scientists who can work in product development and perform testing on finished products. There also are other jobs available in the typical areas needed to support businesses, such as accountants, sales representatives and software engineers.
Some of the ways that you can increase your chances of landing a job in the competitive cannabis industry include:
Look Professional
It always is important to dress well for job seekers in professional occupations, but this is going to be especially important in the legal cannabis industry. Companies who trade in this industry want to have a highly professional appearance and look like law-abiding members of the community; they want to distance themselves from the stereotype of only 'stoners' and 'hippies' from working in the industry. So, if you want to snag a job in the cannabis industry, be sure to dress professionally for interviews and job fairs.
Being a User Is Unnecessary
Being familiar with the product that you are going to market, sell or otherwise work with is important. But you do not have to be a user of marijuana to be hired in this field. Some occupations, such as patient counselor or being a 'budtender' in a dispensary will require you to be well familiar with the detailed properties of various types of marijuana so that you can recommend products. But this knowledge need not be first hand.
Education Is Important
To increase your chances of being hired in this industry, having education about the laws that apply in your state is important. If you have already taken courses in legal compliance for the cannabis industry, this is one less thing your employer will have to worry about. This can give you a leg up on your competition. There are, for example, 29 states where medical marijuana is legal, and each has its own unique laws and regulations.
See 33 Amazing Cannabis Courses and Degree options now available
There are various cannabis industry certifications that can be very helpful to getting a job in this industry. Most states where cannabis is legal will have various training programs available.
One of the programs to consider is the Dispensary Technician Certification program that offers dispensary staff with the customer relations, medicinal and operational knowledge to be successful in this profession.
Cultivators in the cannabis industry are seeking professionals with experience and education in major agricultural operations, such as growing tomatoes and tulips, which can be applied to the cannabis industry. For the retail industry, those who have worked in high volume retail stores and eateries will have an advantage.
Being Experienced in Green Industries Helps
There are similarities between the cannabis and solar industries; that industry grew almost as quickly as this one. People who are familiar with that type of rapid growth are needed in the cannabis field because they understand the importance of scaling. It also is helpful if you have been successful in managing or working in a startup company.
25+ Best Marijuana Jobs To Look For
Note: We highly recommend a general degree in business or MBA degree to stand out among other job candidates.
Some of the top jobs that you can look for in the marijuana industry today include:
Store manager: Retailers in the legal cannabis field need good managers just like any other retail business. Store managers or dispensary managers in the cannabis trade can earn a good living, with some making in the range of $75,000 per year. For those who work for larger stores, you may enjoy benefits and vacation time, too. Many managers of top performing stores get bonuses on top of their salary.
Sales representative: Sales professionals in the cannabis industry visit retail stores and dispensaries and develop business relationships with growers. It is very important to be knowledgeable about the entire cannabis industry, including the products and all regulations that are relevant to your state. A good deal of your salary will likely come from commissions. Note that there are regulations regarding advertising cannabis products on online networks, in print and on broadcasts.
Budtender: This is a retail professional who serves customers at the cannabis dispensary. This is usually an entry level job with a typical wage of $10 to $15 per hour. At a medical marijuana dispensary, this job could be called patient advocate.
Sales account executive: As with any industry that sells products and services, sales account executives are needed in the cannabis industry. These professionals are needed to build relationships in the industry and market cannabis products and services that enhance the ability of the client to drive sales and acquire more clients.
Operations manager: Operations managers are needed to provide oversight for facilities that grow legal cannabis. Duties include managing day to day operations in the processing center, and may include oversight of trimming and weighing of product to ensure quality; conduct QA audits and ensure company standards are being maintained.
Territory manager: Responsible for managing cannabis accounts portfolio for a company region of the country; is responsible for strategic account objectives and hitting sales goals each quarter.
Cannabis application writer: Assists in the application process for writing and preparing municipal and state cannabis applications for a variety of clients. This is a technical and grant writing position that requires extensive project management skills.
Cannabis lab manufacturing director: Oversees and manages personnel that are needed to process and manufacture cannabis. Oversees production by the creation and review of production schedules. Performs regular QA and QC duties that require analytical testing for consistency and quality.
Director of cannabis cultivation: The director will manage the daily operations of the cannabis cultivation facility, and will provide close management of every stage of production, from propagation to distribution.
Accountant: These professionals are frequently needed in the cannabis industry by companies that need help with all accounting services, such as payables, receivables and various payroll functions.
Owner of a dispensary: This differs markedly from the job of a store manager. Dispensaries work in places where cannabis is legal for medical reasons, but not for recreational use. Owners have to be up to date of relevant regulations and obey them carefully. Some dispensary owners may earn $100,000 per year if their dispensary is profitable.
Grow masters: These professionals are essentially farmers that are responsible for growing various strains of marijuana plants that will be sold to clients later. Growing these plants is a complicated business and you must stay on top of vital issues such as temperature control, space, insects and many other issues that arise when growing plants. The top grow masters are in great demand and can command salaries of $100,000 per year.
Cannabis steward: Serves and educates clients on what is in the dispensing catalog for a cannabis provider. This is typically an entry level, customer service-related position that requires long hours and working with clients in retail shops.
Program manager: Responsible for the management of all community engagement work and analysis to support the cannabis health equity impact assessment, as well as investigation and monitoring.
Cultivation lead: Manages and maintains grow house protocols for cultivation facilities of various sizes. Also may clone, transplant, feed plants, defoliate, top, flush and perform inventory management. Develops and maintains grow warehouse protocols.
Extraction technician: Most people believe that marijuana exists only as a plant, but marijuana extracts are growing in popularity; they can amount to up to 40% of the sales in some retailers. Many professionals in this field have Ph.D.s and can earn between $75,000 and $100,000 per year. This job is growing because some states frown upon people smoking cannabis and only make it available for medical uses as an extract.
Chefs: A marijuana edible chef is involved in activities that go beyond mere cooking. Their work focuses on the masterful infusion of marijuana concentrate into various foods in certain doses for measured, safe and legal consumption. Depending upon the business, edibles chefs may earn a salary of $50,000 to $100,000 per year.
Seed harvester: Harvesting and selling cannabis seeds can be related to farming but it is more specialized. Selling marijuana seeds may involve having to jump through some legal loopholes but you can do it. Seeds and clones have a large market where marijuana is legal. But remember that in some places growing plants on your own without a license is against the law.
Consultant: All industries have consultants and they can offer great insights in the cannabis industry. If you are a growing specialist who does not want to have your own farm, consulting can be lucrative. Also, consultants can aid entrepreneurs to get their legal cannabis business off the ground, and help to identify where the business can expand. Marketing consultants in the industry can help cannabis startup firms to get their brand going and create a unique identity.
Entrepreneur: The legality of cannabis in many states is helping to launch many entrepreneurs of all stripes. Some of the businesses that are growing around legalized marijuana are bed and breakfasts, painting classes, florists, cannabis-themed bike tours, medical marijuana delivery service, cannabis business consulting, and cannabis extraction processing laboratory equipment sales.
Software programmer: Software needs to be developed to help marijuana businesses to sell and develop their product, and may include accounting programs and product management systems.
PR manager: Responsible for writing press releases, electronic press kits; nurture relationships with bloggers, journalists and influencers in the cannabis industry.
Security professional: When a new cannabis retail location opens, security is often an important consideration. This is especially important in busy urban areas, and many store owners opt to keep security guards on staff permanently. Checking IDs and guarding people's privacy is important, but it also is key to ensure money and product transfers occur properly.
Glass merchant: This industry has been in existence for a long time, but now there is a growing industry for selling glass bongs, pipes and vaporizers for the legal cannabis trade.
Courier: As legal cannabis providers expand, there will be more need for courier and delivery services. This type of work will function much like pizza delivery services drop off their products. Many medical marijuana patients are unable to get to the location of the dispensary and there is a need for courier services.
Packager: Entry level production position that is responsible for sifting through batches, separating, weighing, packaging and sealing product effectively and successfully. Responsible for identifying the retail needs of the store based upon inventory levels.
Interested in Starting a Cannabis Business?
Two of the best states to start a cannabis business are Colorado and California. Colorado's licensing laws are so open that Denver boasts twice as many cannabis dispensaries as it does Starbucks. California is predicted to have recreational cannabis businesses licenses available in 2018, opening the way for a variety of dispensaries, cafes, and restaurants.
A couple of the worst states for business? New York, with its harsh regulations and highly competitive licensing, and Minnesota, which only allows eight dispensaries in the state. For more information see The Business of Cannabis study here.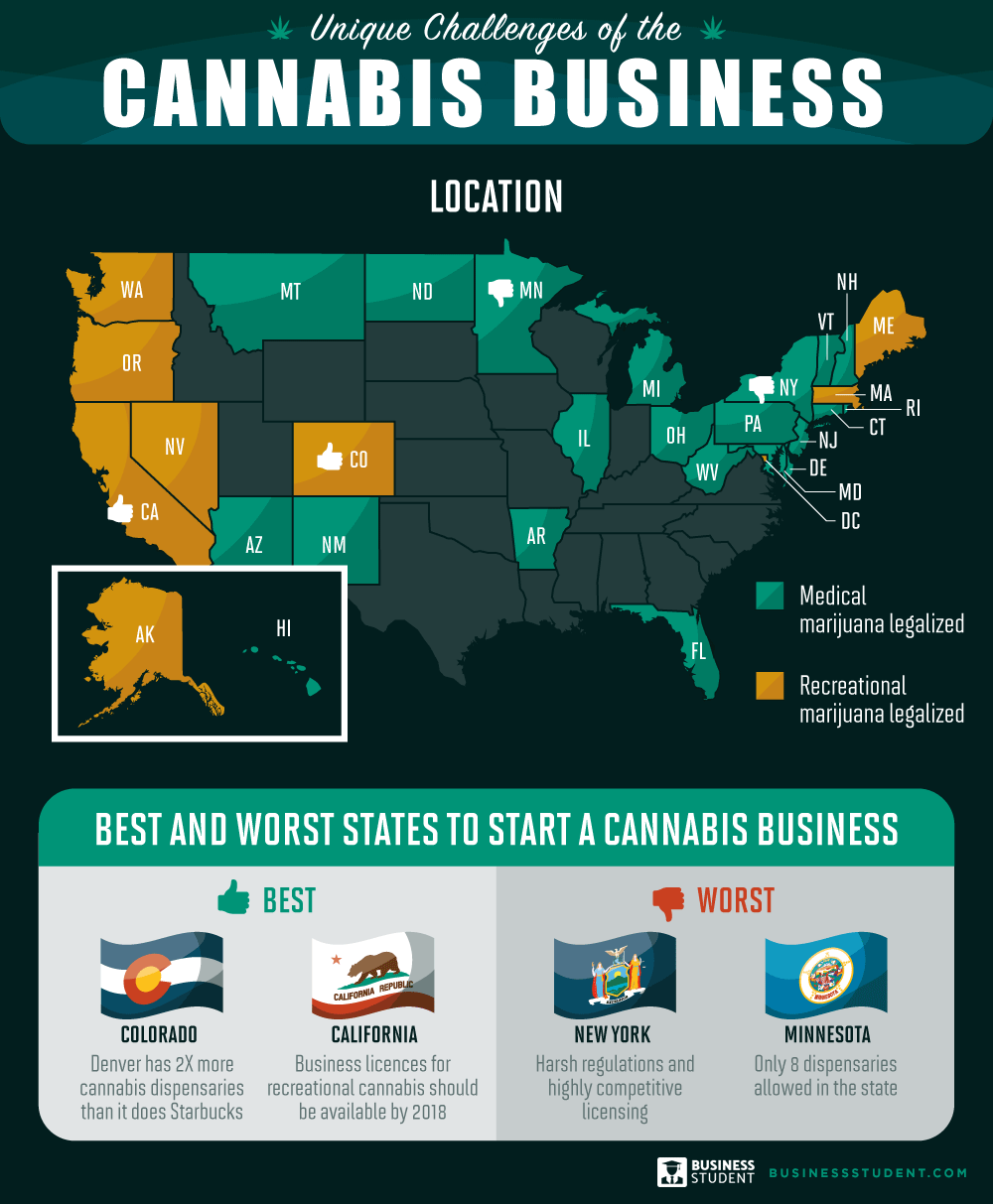 References
How to Get a Job in the Legal Weed Business. (n.d.). Retrieved from https://www.cbsnews.com/news/how-to-get-a-job-in-the-legal-weed-business/
Medical Cannabis Education. (n.d.). Retrieved from https://cannabistraininginstitute.com/course-catalog/medical-cannabis-education/dispensary-course-product/
5 High Paying Marijuana Jobs in the Legal Cannabis Industry. (2016). Retrieved from https://www.payscale.com/career-news/2017/04/5-high-paying-marijuana-jobs-in-the-legal-cannabis-industry