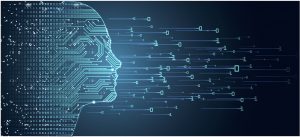 Reading Time:

8

minutes

<!- mfunc search_box_body ->

<!- /mfunc search_box_body ->

Six years ago, for its December 2012 issue, the Harvard Business Review declared that no job would be more sought-after over the next decade than data scientist, which it called the sexiest job of the 21st century.

<!- mfunc feat_school ->

Featured Programs:

Sponsored School(s)
Sponsored School(s)
All school search, finder, or match results, as well as colleges and universities displayed as "Featured School(s)" or "Sponsored Content" are advertisers that compensate us for placement on this site. The resources, editorial content, and school evaluations published on this site are developed independent of the schools that advertise here.

<!- /mfunc feat_school ->

With more than half the decade gone, it seems Harvard's bold predictions were warranted.

Search volume for the term "data scientist" has soared 675 percent since December 2012. Glassdoor deemed data scientist the best job in the U.S. in 2017 and 2016. Jobs in data science and analytics are projected to grow by another 15 percent by 2020.

But data scientist isn't the only job for those with a background in data science.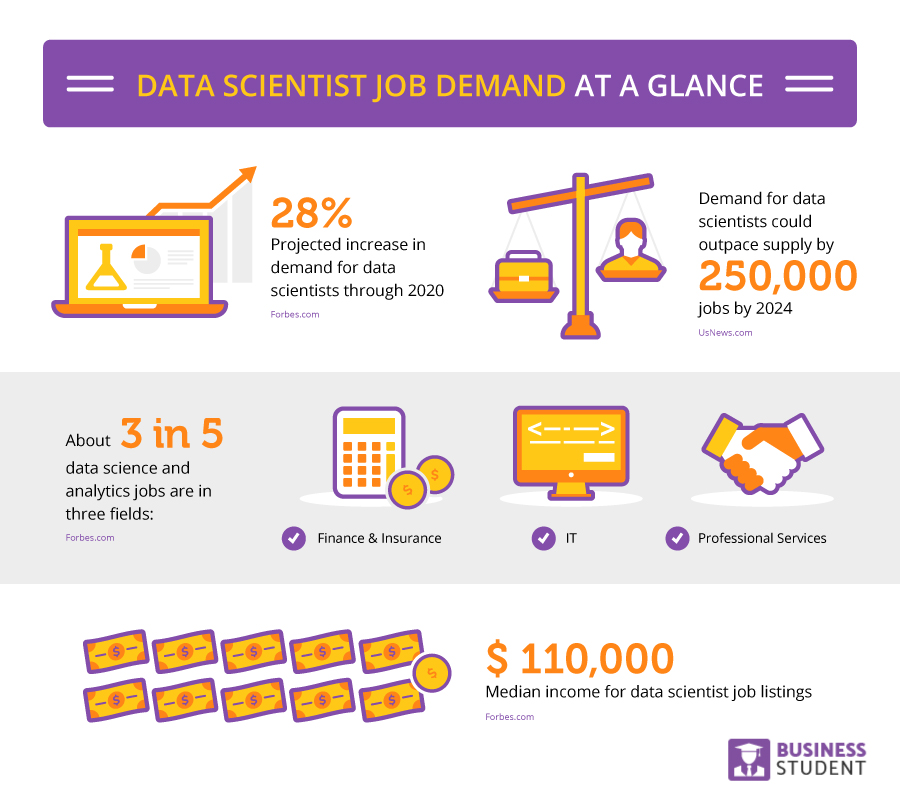 So what are the jobs we think are just as sexy, including what they do, how much they pay and what companies are hiring?
Let's first take a look at what data scientists really do.
What Are Data Scientists?
Because it provides the foundation of so many technology jobs today, data science is an incredibly broad field. Data science includes many disciplines, from computer science to statistics, but essentially, data scientists take data, organize it, and then analyze it to reveal connections or intelligence to inform business or organizational decisions.
An in-demand data scientist will have an analytical mind, a strong background in math, thorough knowledge of statistics and programming, and the ability to organize information.
Let's take a quick look at the education, industries, salaries, and outlook of data scientist jobs.
Education
While not always required, advanced degrees are incredibly valuable in this field, particularly if you want to move up to the higher levels of the industry. If not a degree in data science specifically, you should consider a degree in mathematics and degree in statistics, degree in engineering, or degree in computer science, as they'll give you a good background in what you'll need to know to become a data scientist. Also degrees in business analytics, degrees in data analytics but there are even a larger number of college degrees available to get into big data.
Industries
While data science is needed in virtually every industry, including nonprofits and governments, data scientist are in heavy demand in biotechnology and pharmaceuticals, energy, transportation, telecommunications, aerospace, IT and security, finance and banking, software, media, and retail. Actually, it probably would be easier to create a list of industries where data scientists aren't required.
Salaries
As with most fields, a higher degree will usually net you a more generous starting salary, but data scientists generally are paid well, with the average salary around $130,000.
Growth
Demand for data scientists is high, and demand for data scientists and engineers is projected to grow by a combined 39 percent through 2020.
Why Is Data Science In High Demand?
Smartphones, computers, media streaming services, fitness monitors, smart appliances, social media — our lives are being turned into information that companies use to learn more about us, whether to improve our lives or just sell us stuff.
By 2020, the average human will generate 1.7 megabytes of data every second of the day. More data was produced in 2017 than in the previous 5,000 years of human history combined. Three-hundred hours of video are uploaded to YouTube every minute, and more than 1 trillion Google searches are done each year. But despite, or perhaps because of, the sheer amount of data out there, less than 1 percent of it will actually be analyzed.
But companies know that their future success likely lies in their ability to harness and take advantage of this treasure trove of information, so they turn to data scientists to control the flow of information and turn it into profit.
There is tremendous potential for value in data science. Estimates say that in just one area, healthcare, the United States could save as much as $450 billion per year through insights gleaned from data science-driven analysis and programs.
When you consider that this is one analysis of just one area of the economy, data science can power intelligence that can streamline and improve the bottom line for nearly every kind of business.
Responsibilities & Tools
While mileage will vary by job role and industry, most openings in data science will have somewhat similar tasks, responsibilities, and tools. Let's take a quick look at what's typical industry-wide:
Responsibilities
Extract data from internal and external sources
Create or employ methods for cleaning and sorting data
Develop analysis models, algorithms, analytics, and machine learning and apply them to data sets
Explore and slice data from diverse angles to glean unique insights and identify trends
Develop data-driven solutions to capitalize on insights
Communicate across teams to describe findings and implement solutions
Continuously monitor and analyze results to ensure model performance and data accuracy
Tools & technical skills
Programming and database: C, C++, Java, JavaScript, Perl, Python, R/SAS, SQL
Data mining: GLM/regression, random forest, text mining, social network analysis, boosting
Web services & cloud services: S3, Redshift, DigitalOcean, Amazon AWS, Spark,
Distributed data/computing tools: Map/Reduce, Hadoop, Hive, Spark, Gurobi, MySQL, Pig
Machine learning: Regression, simulation, modeling, clustering, scenario analysis, decision trees, neural networks
Third-party data analysis: Google Analytics, Coremetrics, Adwords, Facebook Insights, Site Catalyst, Crimson Hexagon
Data visualization: Periscope, D3, ggplot, Business Objects
10 Awesome Careers Waiting Right Now
A strong foundation in data science and experience with the tools we discussed should equip you with the ability to get a job in whatever industry interests you.
But here's a look at 10 interesting job openings we found during our research, whether these are jobs we expect to be in high demand or they're just plain cool.
The salary ranges and hiring companies came from research on Indeed, Glassdoor, and other job boards.
Big-Data Engineer
Responsibilities: Uses AI and machine learning tools to gather and evaluate internal and customer data and develop recommendations or automated systems.
Salary range: $55,000-$100,000
Who's hiring: 23andMe (Mountain View, California), United Health Group (Minnetonka, Minnesota), Jolt Tech (Los Angeles, California)
Business Intelligence Analyst
Responsibilities: Gather and analyze internal and external data to identify trends related to business operations and recommend plans to increase revenue or reduce costs.
Salary range: $60,000-$104,000
Who's hiring: Vidant Health (Greenville, North Carolina), Keurig Dr. Pepper (Plano, Texas), City of Seattle
Database Administrator
Responsibilities: Design, develop, implement, and maintain new and existing organizational databases. Follow or create processes and procedures to maximize performance, quality, and data integrity.
Salary range: $60,000-$106,000
Who's hiring: Sherwin-Williams (Cleveland, Ohio), University of Kentucky (Lexington, Kentucky), Macy's (Johns Creek, Georgia)
Epidemiologist
Responsibilities: Create, sort, clean, and analyze data to support clinical studies or health initiatives. Ensure integrity of data, including corporate and regulatory compliance.
Salary range: $50,000-$96,000
Who's hiring: Anthem (Wilmington, Delaware), Centers for Disease Control and Prevention (San Diego, California), State of Montana
Ethical Hacker
Responsibilities: Devise and perform security assessments of products and organizations, compile and analyze results, and make recommendations about security fixes.
Salary range: $83,000-$100,000
Who's hiring: Oracle (Portland, Oregon), Motorola (Chicago, Illinois), MailChimp (Atlanta, Georgia)
Forensic Accountant
Responsibilities: Compile, sort, and analyze documentation and data surrounding financial accounts and practices for consulting, law-enforcement, arbitration, or general business purposes.
Salary range: $75,000-$94,000
Who's hiring: Federal Bureau of Investigation (Indianapolis), The CSP Group (St. Louis), Walmart (Bentonville, Arkansas)
Machine Learning Engineer
Responsibilities: Develop, test, and improve models and algorithms to sort and automatically analyze datasets and extract organizational insight. Build methods of automating deep learning, including labeling, training, and visualization.
Salary range: $85,000-$137,000
Who's hiring: Zulily (Seattle, Washington), CVS Health (Woonsocket, Rhode Island), Bloomberg (New York)
Meteorologist
Responsibilities: Evaluate modeled data surrounding weather, air-quality, and other related topics to create accurate and timely forecasts that rely on observational data and statistical tools.
Salary range: $40,000-$92,000
Who's hiring: Tribune Media Co. (St. Louis), Iteris (Grand Forks, North Dakota), AccuWeather (State College, Pennsylvania)
Social Science Data Analyst
Responsibilities: Gathers, sorts, and analyzes data related to initiatives to improve human health and extend lifespans and makes recommendations based on conclusions, as well as identifying limitations of data.
Salary range: $63,000-$120,000
Who's hiring: Rescue Agency (San Diego, California), Center for Health Information and Analysis (Boston, Massachusetts), U.S. Department of Health and Human Services (Woodlawn, Maryland)
Statistician
Responsibilities: Collect, evaluate, and interpret data from inside and outside the organization to provide insight and recommendations about organizational needs. Use data collection and mathematical modeling techniques to arrive at and explain business recommendations to internal and external stakeholders.
Salary range: $60,000-$108,000
Who's hiring: Cook Medical (Bloomington, Indiana), Department of Agriculture (Sacramento, California), IHRC (Atlanta, Georgia)
Want a visual version?

Diversity in Data Science
The lack of ethnic and gender diversity in STEM fields has been well-publicized, and the situation is no different when you drill down into data science as a specialty. Women, African-Americans, and Hispanics and Latinos, in particular, are underrepresented in data science.
Women make up just over a quarter of data professionals despite making up nearly half of the overall American workforce, African-Americans make up about 11 percent of the U.S. workforce but only 9 percent of STEM workers, and Hispanics and Latinos comprise about 16 percent of the workforce but just 7 percent of STEM employees. One ethnic group, Asians, is overrepresented in STEM, making up 6 percent of the overall workforce but 13 percent of STEM workers.
The past 25 years have seen improvements in diversity among STEM workers, as representation by women and ethnic minorities has increased since 1990, but the fact that these groups lag behind in these potentially lucrative jobs means a huge percentage of the population lacks access to the wealth these jobs can help them build. After all, STEM-focused workers tend to earn more than non-STEM workers, even when accounting for educational differences.
Salaries in STEM fields have long outpaced others, and that divide has grown in recent years. Today, workers 25 and older with bachelor's degrees earn an average of about $55,000; for those in STEM fields of the same age and educational attainment, the average earnings are about $75,000. In 1990, the overall gap between non-STEM and STEM workers was 40 percent; today it's an incredible 65 percent.
Relegating African-Americans, Hispanics and Latinos, and women to non-STEM fields increases the chances that they will be taking lower-wage jobs despite having similar education as their STEM-employed male counterparts.
A problem this large can't be solved overnight, but schools, universities, and employers should take active measures to combat the lack of gender and ethnic diversity among their classes and offices. Those could include intervention among elementary-age students, integration with arts and humanities disciplines, or including social justice aspects in STEM education (after all, the point of STEM is making life better, right?).
Conclusion
STEM workers, including those with a data science background, are among the most in-demand and highest paid in the U.S. workforce. And a job in data science doesn't have to mean something that's boring or will make you go blind staring at Excel spreadsheets (though if you're into spreadsheets, you'll deal with them plenty).
With advancements in technology and an onslaught of data that grows by the minute, data science degree-holders are incredibly well-positioned to find jobs in a wide range of industries with varying (and potentially fun) job duties.
Resources