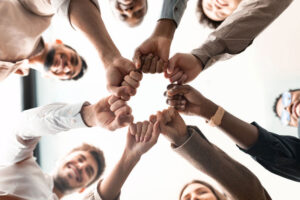 <!- mfunc search_box_body ->

<!- /mfunc search_box_body ->

Reading Time:

6

minutes

As technological innovation accelerates and work-from-home arrangements remain a widespread norm, it's becoming clear that the workplace as we once knew it will never be the same. While some of the recent evolutions of business have eliminated the need for certain roles and responsibilities, some positions are undergoing important transformations to keep up with contemporary needs. This is the case for Human Resources departments at businesses of all types. HR is, after all, indispensable to any company structure, and now more than ever employees are relying upon their HR representatives to navigate a changing professional landscape.

<!- mfunc feat_school ->

Featured Programs:

Sponsored School(s)
Sponsored School(s)
All school search, finder, or match results, as well as colleges and universities displayed as "Featured School(s)" or "Sponsored Content" are advertisers that compensate us for placement on this site. The resources, editorial content, and school evaluations published on this site are developed independent of the schools that advertise here.

<!- /mfunc feat_school ->

Beyond the technological side of work, changes in values have also led to a reimagining of the role of HR departments. At the center of this shift is a new kind of company culture, one that encourages communication, transparency, and worker advocacy to create a strong, loyal team of employees who know they are well cared for by their employer.
Businesses are finding that a company culture with a supportive, accessible, and involved human resources department helps everyone succeed.
So where did this transformation of Human Resources come from, and how is it reshaping business? The effects reach business owners and employees alike, with everyone benefitting from improvements to efficiency, communication, and recruitment. Read on to discover the past and future of human resource management.
The Transformation of HR Departments: Old Approaches to HR
Until fairly recently, human resource management at most companies was focused on "paper pushing" – processing dry but necessary paperwork for things like hiring, firing, benefits, and retirement. New technologies have emerged, however, that are capable of doing many of the same tasks effortlessly, allowing human resource departments to shift their focus from a purely administrative role. As the clerical aspects of human resource management became significantly quicker and easier, the role of HR managers began to evolve, becoming more integral to important office functions like recruitment and employee retention.
Shifting Values, Social Media, and the Pandemic
At the same time that technology began to allow human resources departments to shift their focus to individual employees, a cultural shift in regards to work-life balance was also taking place, prompted largely by the rise of social media and, more recently, life during COVID-19 lockdowns. Workers in all industries began to ask for more from their jobs in a variety of aspects, from increased time off to higher pay to plainly delineated career maps. The common denominator across employee grievances is a desire to fit work more comfortably within one's lifestyle. The mass exodus of workers in 2021 can be seen as a prime example of the consequences of work fatigue and the newfound empowerment of employees to redefine expectations for labor.
Indeed, employee expectations from their employers are changing, and many businesses today are struggling to keep up with shifting standards. But our burgeoning culture of expanded employee demands is only going to continue to grow. It is imperative for businesses of all types to seriously and holistically think through the experience they are offering their employees to ensure high rates of retention. The good news: technological innovation makes it not only possible but downright efficient to ditch old-fashioned bureaucratic methods in favor of a more responsive, flexible model that prioritizes employees as individuals.
Where does HR fit in? As recent years have indicated, modern human resource management means an approach that is significantly more active in shaping the employee experience at work to guarantee a positive and productive experience among all. In other words, a significant new responsibility of HR departments is to create and reinforce a "people-first" company culture that makes employees feel more thoroughly supported by their employers.
By investing in making work a fulfilling experience with opportunities for growth, HR departments are aiming to instill loyalty among satisfied employees, and in doing so are investing in employee retention.
HR Technology Today: The Age of "People Analytics"

As technology continues to advance, HR departments have more and more tools at their disposal to aid them in their job, allowing them to refine their responsibilities. In an age when employee retention is notoriously difficult for companies, HR departments play a vital role in recruiting strong, serious candidates and helping to shape a positive professional experience that encourages employees to stay where they're working long-term.
The advent of new analytics technology – nicknamed "people analytics" – is now allowing HR managers to take a data-driven approach to human resources, which has been shown to be highly effective in creating a strong corporate culture. Data analysis can be used to enhance a workplace in a huge number of ways, including the following:
Targeted recruitment practices
Measuring and predicting professional success
Highlighting management potential
Boosting overall employee engagement
From making more informed hiring decisions to helping inspire productive in-office collaborations and so much more, analytics can be transformative to a workplace, with strong results to show for it. Once seen as a more or less clerical branch of a company, human resources departments are now understood as vital to tracking down new talent and developing it to its fullest potential.
How HR Departments Can Influence Company Culture
As businesses have become more invested in creating positive company cultures, HR departments have found an even more important role for themselves as analysts and advocates who are trusted as the most reliable point of connection between a company and its personnel. As a recent article in McKinsey recommends, the contemporary HR department "should do nothing less than reimagine the basic tenets of an organization."
At the heart of this newfound regard for HR departments is the understanding by business owners that a company is only as good as the people who keep it running. This means that companies need to work to track down the best employees and, moreover, keep them. Good human resources in this day and age means a trustworthy ear and a dependable voice, making employees feel heard and negotiating on their behalf.
HR Departments as Employee Advocates
With more time to focus on employee experience, HR departments have become invaluable resources at companies, advising on key decisions related to the workflow efficiency, strategy execution, and the planned evolution of their business. The key insight HR departments are able to offer is through their direct line to employees, who are invited to disclose concerns and feedback to their human resources managers that they otherwise might not share. Because of this, one of the key challenges for human resource managers is to act as important intermediaries between employees and employers, championing employees to help make their work experience as rewarding as possible.
While advocating for employee interests is deeply important in ensuring an equitable work environment, what's in it for the employers? In other words, what are the benefits of a strong company culture? Beyond helping maintain high rates of retention, a deep understanding of employee interests can also aid in strategy to maximize employee contribution. The logic is simple: a happy, fulfilled employee who is used to their fullest potential is more likely to do their best work.
The Future of Human Resources: Defining Company Values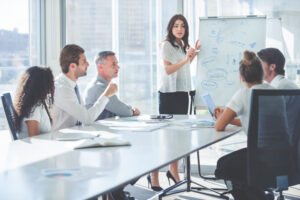 As HR departments continue to evolve, they have become more and more central to the once nebulous task of defining a company's values and in turn, instilling a good company culture overall. This is achieved through several core functions of human resources: hiring team members whose work experience and goals is in step with the business' strategic plans, creating a positive and morale-building work environment, and developing new metrics of performance management, among many other responsibilities.
Effective HR departments must become uniquely in touch with their company's purpose, clearly defining its goals and values so that its norms, organizing structure, and personnel reflect the company's reason for being.
Modern human resource managers can also be called upon to fix a company's culture, assessing the business to find places where employees are dissatisfied or where a company's structure might be failing to match its overall vision and purpose.
Participating in the Future of HR
The transformation of HR departments is well underway, and now is a fantastic time to get involved in human resource development for the future. From data-driven approaches like "people analytics" to strategy development and person-to-person support, the role of human resource managers is growing quickly and will only continue to evolve in the future.
If you're ready to make the next steps toward becoming a human resources manager, take a look at our list of the best online human resources MBA programs to help shape the future of HR yourself.