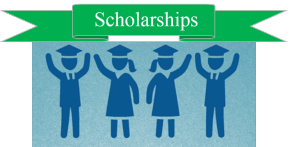 <!- mfunc search_box_body ->

<!- /mfunc search_box_body ->

Reading Time:

10

minutes

The financial burden of continued education is a prohibitive factor for many potential business students. With the cost of a college education higher than it has ever been, finding the money to pay for a degree isn't easy. Luckily, many schools and organizations offer a lending hand by providing scholarships to students pursuing business studies. Finding these resources and scholarships, however, is an overwhelming task.

<!- mfunc feat_school ->

Featured Programs:

Sponsored School(s)
Sponsored School(s)
All school search, finder, or match results, as well as colleges and universities displayed as "Featured School(s)" or "Sponsored Content" are advertisers that compensate us for placement on this site. The resources, editorial content, and school evaluations published on this site are developed independent of the schools that advertise here.

<!- /mfunc feat_school ->
Below, you'll find over 50+ scholarships that are available for business students of all backgrounds and interests.
Treat this as a launching point for your business education and make sure to research for any additional scholarships related to your academic interests and personal background as brand-new scholarships are awarded every single year.
Students With Academic Merit
Any student who is entering their first, second, third, fourth, or graduate year is eligible for one of two $5,000 merit scholarships. The requirements are holding a 3.4 GPA or higher and having a declared major related to travel, tourism, or transportation.
This annual scholarship provides five $5,000 scholarships each year to students who wish to become investors. Students must be between 18 and 22 years old and enrolled as a Finance major. Candidates are evaluated based on a quiz and essays.
This extremely competitive scholarship provides full tuition reimbursement up to $50,000 annually for high school seniors. You must have a 3.7 GPA or higher and a strong extracurricular resume with exceptional leadership qualities.
Each year, Elks awards 500 students scholarships ranging from $4,000 to $50,000. Any student is eligible, provided that they are a high school senior enrolling in a four-year college. While there aren't any minimum requirements, Elks scores applicants based on scholarship, leadership, and financial lead. The 20 finalists are additionally provided with a fully paid Leadership Weekend retreat in Chicago.
One-time $2,500 scholarships are provided by GEICO to exceptional undergraduates studying business administration, computer science, IT, or mathematics. Eligible students must be sophomores or juniors, have a minimum GPA of 3.0, and demonstrate exceptional leadership ability.
Awarding a maximum of 40 students will receive up to $40,000 each, this scholarship is available for high school seniors with a GPA of 3.5 or higher and either a combined SAT score of 1200 or an ACT composite score of 26 or higher. This scholarship focuses on students with great financial need.
Every year the Human Resource Association of Central Connecticut awards $1,000 to a current college sophomore, junior, or senior pursuing a Human Resources or Business degree. Minimum GPA requirement is 3.0 or above, and candidates are selected on academic strength and their level of interest in HR.
This scholarship is available for any high school junior who scores in the top three percentile of the Preliminary SATs. You must complete high school as expected and enroll in a four-year university the fall after graduation.
Provided by the Foundation for Financial Service Professionals, between three and six scholarships are awarded to students currently enrolled or accepted in a financial service field and demonstrating financial need.
The YMA Fashion Scholarship Fund offers merit-based scholarships of $5,000, $10,000, and $30,000 to students who seek to work in the fashion industry. This includes business majors such as marketing, merchandising, and retail. Part of the application process includes a case study on strategically growing a fashion company.
Students Who Served in the Military
This $2,500 scholarship is available for honorably discharged military veterans who served in the Enduring Freedom-Afghanistan or Iraqi Freedom Operations from 2004 through the present day. You must be enrolled as a college sophomore or junior with a GPA of 3.0 or higher in a program related to technology.
Any disabled veteran who is attending any college, university, or vocational school in the U.S. is eligible for this $2,500 scholarship. Scholarships are awarded based on consideration of academic achievement, service to veterans and their families, community engagement, and financial need.
Two $3,000 scholarships are awarded to any military veteran who is enrolled in either a part-time or full-time undergraduate program demonstrating sufficient financial need.
In order to be eligible for this $1,000 scholarship, applicants must be a veteran of Vietnam or a relative of one. You must be pursuing a degree at any accredited college or university and submit an essay on the role of the U.S. Air Force in the Vietnam War.
Students With a Passion for Athletics
Any high school senior or college student who is actively engaged in a sport may apply for this $500 scholarship. You must answer essays about your participation in sports, how they influenced you, and how they related to your career goals.
Sponsored by Iron Company, you must want to pursue a career in the fitness industry, be an incoming freshman, and hold a GPA of 3.0 or higher. You will be required to write an essay about what makes you passionate about fitness.
Each year, Foot Locker provides 20 student-athletes with $20,000. Students must be graduating high school and pursuing a four-year degree at an accredited college or university. Unweighted GPA must be 3.0 or higher, and students must be actively involved in intramural or varsity sports and passionate about serving their community.
The LPGA tour awards $1,250 scholarships for graduating high school seniors who are female of color. Applicants must plan to play collegiate golf, have a strong academic background and be actively engaged in their community.
The United States Tennis Association awarded $2.500 to a single male and female each year who showed exceptional commitment to their varsity tennis program, have a strong academic background and are dedicated to their community.
The Positive Coaching Alliance awards over 60 scholarships of $1,000 to $2,000 each year to deserving high school juniors. Applicants must currently play for either their high school or a club sports team and complete essays about making themselves, their team, and the game better.
Students With Disabilities
$2,500 is provided for selected students who are currently enrolled in an accredited college or university and have completed at least one year. Students must require a wheelchair or mobility scooter and hold a GPA of 3.0 or higher.
Equity Through Education was founded to help build a diverse workforce by providing students with both visible and invisible disabilities with the ability to learn and grow their careers. A selected student receives $10,000 ($5,000 for students in Canada) and must be pursuing a degree in business or commerce, engineering, math, physics, statistics, or a related program. Preferably, a student will be in a Finance program focusing on Capital Markets.
This scholarship offers $1,000 to any disabled student who is currently enrolled in an accredited university or trade school. In order to qualify for the scholarship, you must have prepared a business plan for either a course or your own entrepreneurial endeavors and write an essay about what you learned from the process.
Any student who has hemophilia or another bleeding disorder is eligible for one of two scholarships that are worth $2,000 each. Any program from an accredited post-secondary college, university or trade school is eligible.
Presented by the Cystic Fibrosis Scholarship Foundation, two students each year are presented with a one-year $2,500 scholarship. Applicants must have a GPA of 3.2 or higher, either combined SAT scores of 1250 (1750 under the old scoring) or a composite ACT score of 25 or higher, and a strong dedication to community service.
Every year, 20 undergraduate students and one graduate student are awarded up to $10,000 each. Undergraduate students must be entering their freshman year and all students must be able to submit proof of legal blindness.
Any high school senior, college student or adult with ADHD who is pursuing higher education or training at an accredited college, university, technical school, trade school, or vocational school is eligible for this scholarship which awards 50 students $2,000 each and a full year of ADHD coaching.
Any full-time student with autism who is attending a two- or four-year university or college, or a vocational or technical school is eligible for a $3,000 scholarship. This is only available once, so a former recipient may not apply again.
Students who have a bilateral hearing loss and are either currently attending college or graduating from high school are eligible for a $1,000 scholarship. Any program is eligible and the minimum GPA requirement is 3.2.
Students Who Are Minorities or Women
This scholarship was founded to provide assistance to the future leaders of the American Indian communities. $5,000 is awarded to two students who are of Native American or Alaska Native heritage, hold a high school GPA of 3.25 or higher and have a strong history of giving back to their communities.
Awarded by the United Negro College Fund, this is given each year to two African American females pursuing business majors. Eligible students must be in their sophomore or junior year at a historically black college or university (HBCU), hold a GPA of 3.3 or higher, and interested in pursuing a career in the fashion industry.
This $30,000 scholarship named after the former commissioner of the NBA is offered to any African American student accepted into an accredited HBCU. Applicants must hold a GPA of 3.0 or higher and be enrolled in a sports marketing or other sports-related program.
Established in 1999, this $1,000 scholarship awarded by the Bill & Melinda Gates Foundation aims to provide assistance for exceptional minority students who have a significant financial need. Applicants must be high school seniors of African American, American Indian, Asian, or Hispanic descent and hold a GPA of 3.3 or higher.
Scholarships worth $2,000 and $8,000 are awarded to extraordinary female undergraduate students enrolled in business programs. Interested applicants must be at least a sophomore in college and committed to an ambitious business career upon graduation.
50 awards from $1,000 to $5,000 are presented annually to black students who are enrolled in accounting or finance programs. You must be an active NABA member and currently enrolled as a graduate or undergraduate student with a GPA of 3.5 or higher in your major and 3.3 or higher overall.
This scholarship founded by the Alumnae Association of Omega Phi Beta Sorority provides $1,000 for the use of purchasing textbooks to students who are women of color. Applicants need to be currently accepted as an incoming freshman with a high school GPA of 3.4 or higher and either a combined SAT score of 1800 or an ACT score of 24.
Ron Brown was the first African American to serve as U.S. Secretary of Commerce, and this scholarship provides $40,000 for academically gifted African American high school seniors. Special emphasis is placed on achievement and focus on entrepreneurialism, being a global citizen, community engagement, and public service.
Students Who Are LGBTQ
Run by the National Organization of Black Lesbians on Aging, $1,000 is provided to women who are 40 years or older, a declared lesbian, and African American. You must be currently enrolled in a full-time or part-time program and hold a GPA of 3.0 or above.
These scholarships are provided to gay men and members of the broader LGBT community who have strong academic merit, have shown perseverance overcoming discrimination and are leaders in their community. Students who are living in underserved and rural areas are given priority.
Any student who self-identifies within the LGBTQ community is eligible for this scholarship. You must be a graduating senior about to enter your freshman year at an accredited institution with a GPA of 2.50 or higher and actively involved in LGBTQ-related volunteer work.
A maximum of $13,600 per student is awarded by the Point Foundation to LGBTQ high school seniors and college undergraduate students who are out. Students must study on-campus instead of virtually, be active in the LGBTQ community, have strong academic merit and great financial need.
This graduate scholarship is awarded to self-identifying gay, bisexual or transgender students who are pursuing their MBA. You must have acceptance into a business school in the U.S. and be active in the LGBT community.
This scholarship was founded to provide financial assistance to gay females pursuing a higher education. Awards of $1,500 or $3,000 are given to high school seniors or currently enrolled college students in any program, whether undergraduate or graduate. Submissions are chosen based on academic merit, community service and leadership, and commitment to LGBTQ issues.
Students Who Serve Their Community
Eligible students must be attending or enrolled in any two-year, four-year, graduate school, trade school, or vocational school in the U.S. Applicants need to show how they have served their community, demonstrate both personal drive and financial need, and identify with Bruce Lee and his philosophies.
Any high school, college, or graduate student who has actively worked to stop cyberbullying is eligible to apply for this $1,000 scholarship. Applicants must submit a 500-word essay on how cyberbullying has impacted them personally.
46. GE-Reagan Foundation Scholarship
$40,000 is given to exceptional high school seniors who exhibit exceptional dedication to their community with ambition, integrity, and citizenship. You must be nominated by an eligible community leader and hold a GPA of 3.0 or higher.
This scholarship awards $2,500 to outstanding high school seniors who have worked to end bullying in their community or were able to persevere in the face of bullying. Students must hold a minimum GPA of 3.0 and have demonstrated community service.
One scholarship worth $48,000 and four scholarships worth $20,000 each are awarded to high school seniors who obtained the rank of Eagle Scout. You must be actively involved in Scouting, have a strong commitment to serving your community and be able to maintain a GPA that places you in the top one-third of your program.
Junior high school students who are the dependents of State Farm employees, agents, and retirees are eligible for a scholarship of $3,000 to $8,000 per year, for four years total. Scholarships are awarded based on PSAT scores and overall dedication to community service.
Every year, the Udall Foundation provides its Undergraduate Scholarship to 50 high school sophomores and juniors, which is worth up to $7,000. This scholarship primarily focuses on community service instead of academic achievement, specifically on students who are working to conserve the environment.
Miscellaneous Scholarships
If you are a single female mother, you qualify to apply for this scholarship which provides $3,000 annually. You must have sole custody of a child who is under 18 years old and be currently pursuing a career-oriented college degree. It is also required to be living at or near the poverty line.
EscrowTech International Inc. offers $1,000 scholarships to single parents, both mothers and fathers, who are at least 18 years old and are attending an accredited university. You must currently hold at least a 'B' average and demonstrate exemplary dedication to your family.
This $2,000 scholarship is available for entrepreneurs who are currently running their own small business or plan to start one while maintaining their studies. Applicants must hold a GPA of 3.0 or higher and be a high school senior or enrolled college undergrad.
Students who have suffered the loss of a parent or guardian are eligible for these scholarships worth between $5,000 and $15,000. Students are required to submit an essay discussing the loss or their parent or guardian or a short video along with their application.
Pickard Parry PFAU Southpaw Scholarship
This $1,500 scholarship is open only to left-handed high school seniors and current college students. The application process requires applicants to produce and submit a brief YouTube video about their experience as a left-handed person. Submissions are selected based on creativity and quality.
In an attempt to help educate college undergraduates about personal financial planning, any student who registers and completes an eight-video Financial Genius for Life program is eligible for scholarships worth $5,000 to $20,000. Scholarships are awarded randomly from the pool of eligible applicants who have completed the prerequisite video program.
Each year, The Vegetarian Resource Group provides three high school students scholarships of $5,000 and $10,000. Students may enroll in any major at an accredited four-year institution and will be judged on their compassion, courage, and commitment to the promotion of peace through their vegetarian lifestyle.
See a scholarship you think should be listed here? Drop us a line and tell us about it.