Reading Time:

6

minutes

<!- mfunc search_box_body ->

<!- /mfunc search_box_body ->

It's become popular these days to joke about how robots are going to force many people out of their jobs. And while there is conflicting research on exactly how many jobs will be lost, pretty much all studies agree that millions of jobs are at risk thanks to automation, machine learning, and artificial intelligence.

<!- mfunc feat_school ->

Featured Programs:

Sponsored School(s)
Sponsored School(s)
All school search, finder, or match results, as well as colleges and universities displayed as "Featured School(s)" or "Sponsored Content" are advertisers that compensate us for placement on this site. The resources, editorial content, and school evaluations published on this site are developed independent of the schools that advertise here.

<!- /mfunc feat_school ->

Automation, artificial intelligence, and machine learning are changing the face of the global economy. How much do you know about the technology and its effects?
Just 15% of organizations use AI today; by next year, that number will be 31%.
AI-focused startups have seen a 14-fold increase since 2000.
Consumers often don't know when they are interacting with AI systems, as only one-third of them said they use an AI-powered service or device, when the number who actually do is 77%.
Global spending on AI is projected to surge to more than $7 billion per year by 2022, more than double the $2 billion spent this year.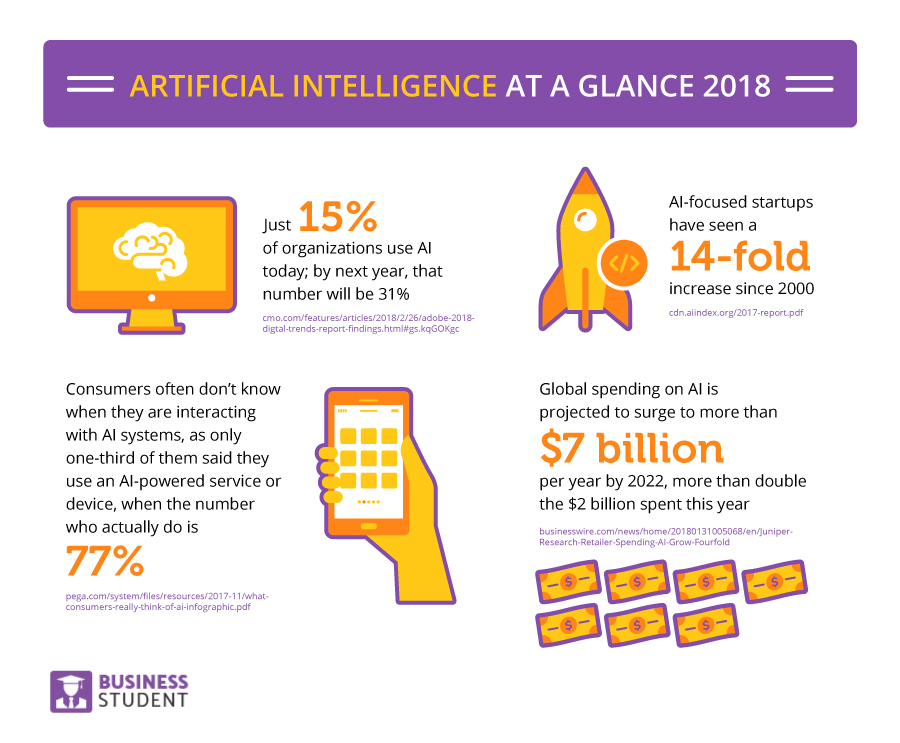 A landmark Oxford University study found that 47 percent of American jobs are at risk of becoming automated in the next 10 years; a more recent study says that percentage is too high, but the newer study still indicates that millions of Americans (about 13 million, the research says) will lose their jobs thanks to automation.
Other studies come to different conclusions, but whatever the exact numbers are, there's no doubt that automation and artificial intelligence will increasingly impact jobs over the next several years. It's easy to think of this revolution as negative for humans; we've all seen pop culture that paints a dark outlook for our species.
But that's just one interpretation. After all, in the short term, this new technology will need people to support and help develop it, and in the long term, innovation will create even more opportunities for those with the education and skills to take advantage of industries we've barely even thought of today.
For those with an interest and aptitude in AI, machine learning, and automation, today's job outlook is bright, and future technological advancements look to make it even brighter.
We've put together a list of the six best careers in the field today, based on current online job postings and other sources including Indeed.com and Payscale.
#1 Data Scientist
Your primary job as a data scientist is to follow the numbers. You will analyze, visualize, and model large amounts of data related to whatever product or service your company sells. A data scientist will build and implement new machine learning models so that timely business decisions can be made. Data science is truly the heart of AI, automation, and machine learning — without data science, none of those other things can happen. See Why get a data science degree.
This job requires someone who is a scientist, statistician, machine learning expert, and engineer who can build products and make recommendations based upon the data.
Data scientist jobs are in high-demand and projected to grow nearly 40 percent through 2020, and it's easy to understand why: They often are high-paying, and data scientists are needed in an incredible range of industries, so chances are a talented data scientist can find a job in a field they care about.
Data Scientist 101
What they do: Compile and analyze large amounts of data, make recommendations to improve business
What they're paid: $105,000
Education needed: Bachelor's or master's degree in IT, computer science, math, physics
Key industries: Finance, insurance, professional services, IT
Top areas with openings: California, New York, Texas, Washington
#2 Machine Learning Engineer
Machine learning engineers are computer programmers whose goals go beyond building a program or an app — their focus is on programming machines to perform specific tasks to support their companies' objectives.
Machine learning engineers need to have strong software skills, be able to apply complex predictive models, and use natural language processing while they are working with large sets of data. They should be familiar with software development methodology, agile practice, and all modern software development tools, including Eclipse and IntelliJ.
Jobs in this field are very highly coveted, and hard to get, as companies generally prefer candidates with master's or doctoral degrees in math or computer science, as well as those with strong backgrounds in programming languages like Python, Java, and Scala, in addition to experience with cloud applications.
Machine Learning Engineer 101
What they do: Deploy, analyze, and support machine learning solutions for business objectives
What they're paid: $120,931
Education needed: Master's or doctorate in computer science or math
Key industries: Aerospace and defense, technology, manufacturing, finance
Top areas with openings: California, New York, Virginia, Washington
#3 Software Developer
Developing AI and machine learning technology is only half the battle — someone still needs to write software to support the design, development and deployment of machine learning and AI systems.
Software developers who specialize in AI and machine learning should have experience in building and optimizing large, complex systems as well as writing efficient code.
Applicable industries are truly limitless, from cell phone providers optimizing their customer service call centers to a recent job listing focused on supporting the national security, intelligence, and law enforcement communities to facilitate handling and analyzing big data, transforming it into actionable intelligence. See Salary outlook for those with a Software Developer Degree.
Software Developer for AI and Machine Learning 101
What they do: Develop, deploy, and maintain software for AI and automation systems
What they're paid: $104,463
Education needed: Bachelor's degree in computer science
Key industries: Telecommunications, defense, law enforcement, healthcare and medicine
Top areas with openings: Minnesota, New York, Pennsylvania, Kansas
#4 Robotics Scientist
Your Alexa may seem like a set-it-and-forget-it machine to you, but to get to that point, the device went through years of development with hard-working programmers ensuring it can do its job properly. Robotics scientists help make that happen.
Robotics science is used in a variety of industries, including manufacturing, space and aerospace, healthcare, and security. A robotics scientist's main mission is to build and maintain robots that may do tasks with human input ranging from very little to quite a lot.
These scientists should have experience in engineering, whether robotic or mechanical, and they should have a skillset filled with advanced mathematics, physical science, and computer-aided design. They must be able to write and improve computer programs, as well as working with specialists and subject-matter experts to develop prototypes. See Best Robotics Degree Programs.
Robotics Scientist 101
What they do: Design, test and maintain systems and functions for robots and robotic mechanisms
What they're paid: $88,900
Education needed: Bachelor's degree in robotics or mechanical engineering
Key industries: Manufacturing, security and law enforcement, healthcare
Top areas with openings: California, Massachusetts, Pennsylvania
#5 Business Intelligence Developer
A business intelligence developer is at heart a data scientist — the difference being this person is laser-focused on making data more understandable for businesses. They study and analyze data, looking for market and business trends, boosting their companies' bottom line.
Business intelligence developers are tasked with designing, modeling, testing, and maintaining cloud-based data storage systems, so they should have a degree in computer science and engineering, as well as experience in data warehouse design, data mining, SQL queries and SQL Server Integration Services. See Why Get a Business Intelligence Degree?.
These developers are sought-after in the public as well as private sector, including city governments, academia and financial services.
Business Intelligence Developer 101
What they do: Design, model, and maintain cloud-based data storage systems; identify market and business trends
What they're paid: $70,056
Education needed: Bachelor's degree in computer science, mathematics, or statistics
Key industries: Public sector, healthcare and medicine, finance, and insurance
Top areas with openings: California, Illinois, New York, Texas
#6 AI Research Scientist
A research scientist who specializes in AI is a subject-matter expert in several AI disciplines, including as machine learning, applied mathematics, and computational statistics. These areas also include deep learning, graphical models, reinforcement learning, computer perception, natural language processing, and data representation. See Why Get an Artificial Intelligence Degree?.
AI research scientists are responsible for applying AI and machine learning principles to achieve business goals.
The prospects for AI research scientists are virtually limitless, as these individuals will be at the forefront of AI and machine learning applications for decades to come, helping shape the very future of the technology.
Typically requires a master's or doctoral degree in computer science or a related field, with skills in parallel computing, AI, machine learning and knowledge of algorithms.
Research Scientist 101
What they do: Analyze, design, and develop AI and machine learning solutions for a variety of applications
What they're paid: $136,233
Education needed: Master's degree or doctorate in computer science or related field
Key industries: Aerospace and defense, IT, pharmaceutical, manufacturing
Top areas with openings: California, Indiana, Massachusetts, Oregon, Washington
Jobs in automation and AI have a promising future, and if you develop the right skills, you can work in a highly paid, exciting technical career for many years. As new technology emerges, individuals with the right skills, curiosity, and persistence can ensure a bright future for AI — and humans, of course.
References