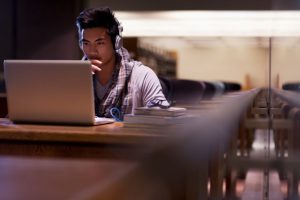 <!- mfunc search_box_body ->

<!- /mfunc search_box_body ->

Reading Time:

8

minutes

Busy professionals who want to earn a bachelor's or master's degree in business today have more options than ever before at their fingertips. The wide availability of broadband Internet around the world means that there are more online business schools available today that offer both undergraduate and graduate business degrees. You have the ability to earn your business degree without ever leaving your home, and you can keep your day job to make ends meet.

<!- mfunc feat_school ->

Featured Programs:

Sponsored School(s)
Sponsored School(s)
All school search, finder, or match results, as well as colleges and universities displayed as "Featured School(s)" or "Sponsored Content" are advertisers that compensate us for placement on this site. The resources, editorial content, and school evaluations published on this site are developed independent of the schools that advertise here.

<!- /mfunc feat_school ->

These programs generally allow the student to learn at their own pace, and they also are accredited by respected education accreditation agencies.

If you are considering a fully accredited undergraduate or graduate degree online, we recommend the following self-paced and accredited programs:
Temple University
The Fox School of Business at Temple University is one of the most respected business schools in the country. It designs its online bachelor's and master's programs for busy students who do not have time to study full time on campus.
One of the most highly regarded online, self-paced business programs in the Fox School of Business is the Bachelor of Business Administration. This program currently is ranked as the #2 online Bachelor of Business Administration, according to US News and World Report. The bachelor's program has the same top faculty as the campus based program, and students also get the same level of career development as campus students.
As a student in this bachelor's program, you can focus your studies on accounting, HR management, legal studies and business, marketing or supply chain management.
The Fox School of Business at Temple University also has a very highly ranked online MBA program. It currently is ranked #1 by US News and World Report for overall quality and for veterans, and in the top five in the world by The Princeton Review. The flexibility of the online MBA program means you can earn this esteemed degree in just 20 months or up to six years.
All programs within the Fox School of Business are accredited by AACSB International.
See our Review of Temple University Online
Rutgers University
The Rutgers School of Business-Camden offers highly esteemed bachelor's and master's degrees in business. Recently the Rutgers School of Business received national recognition in particular for the strength of its online MBA program from US News and World Report.
That publication ranked the Rutgers online MBA among the top 100 programs in the US, with the part time, on campus MBA program among the top 50. Required courses include:
Managerial Economics
Managerial Skills
Quantitative Skills
Accounting for Financial Reporting
Accounting for Managerial Decisions
Business Analytics
Financial Management
Operations Management: Productivity & Quality
Managing Projects & IT
International Business Environment
Also of note is the college's Bachelor of Arts in Business. This degree is offered by the same top-notch professors as the campus program and can be completed 100% online at your own pace. Highlights of the program:
AACSB accreditation
World-class Rutgers professors
Full global integration with many international study opportunities
Guaranteed to be completed at your pace
A unique option at Rutgers is the opportunity to earn a Bachelor of Arts and Master of Business Administration online at the same time. This means that you can reduce your time in school by up to 1.5 years.
See our Review of Rutgers University Online
Drexel University Online
The LeBow College of Business at Drexel University offers a highly competitive online MBA that has the same faculty and coursework as its high quality full time MBA. It is an asynchronous program so that students can earn their MBA at their own pace. The Drexel online MBA currently is ranked as one of the top 20 online MBAs according to Financial Times. It also is accredited by AACSB International.
Most online MBA students complete their degree in 24 months at the same time as others in their class. Most students are able to build camaraderie with their fellow students and network effectively, even though they never actually visit the campus. You also can earn your degree at a slower pace if that is required for your personal and professional goals.
Required courses in the online MBA program are:
Managing and Leading the Total Enterprise
Leading in Dynamic Environments
Essentials of Financial Reporting
Business Problem Solving
Corporate Financial Management
Introduction to Statistics for Business Analytics
Another option is the online bachelor of business administration that introduces students to all areas of business, including the building of quantitative knowledge and developing a grasp of the skills that are needed for global organizations today. The bachelor's program does require a residency on campus each spring.
University of Massachusetts
The Isenberg School of Management at the University of Massachusetts is ranked as the #1 public business schools in the Northeast, according to Businessweek's 2016 survey. All business programs at this business college are accredited by the AACSB.
The online bachelor's degree in business also is ranked #2 in the US based upon quality by TheBestSchools.org. This is a very flexible program with the ability to complete the degree on your own time.
The online MBA program also is highly ranked, with a #9 designation from the Financial Times. Isenberg features one of the oldest, accredited online MBA programs in the US and almost 1300 students. The concentration areas that you can choose with this online MBA are:
Business analytics
Entrepreneurship
Finance
Healthcare administration
Marketing
Sport management
University of Florida
The Warrington College of Business at the University of Florida offers a highly ranked Bachelor of Arts and Bachelor of Science in Business Administration. These online business degrees will expose the student to some of the best business professors in the country. Students develop a strong academic background in many key business disciplines, such as accounting, finance, economics, business law, marketing and management.
The BS degree provides the student with a strong business background also in business law and international business, with options available in real estate and entrepreneurship. Electives also are offered in business communication, career management and business computing.
The BA program offers the student to develop a minor in these disciplines:
Anthropology
Business and economic geography
Educational studies
General business
Geology
Mass communication
Sociology
Sport management
The online MBA program at the University of Florida is regarded as one of the best according to the Financial Times and US News and World Report. It also was one of the first MBA programs online, launched in 1999. There are both two year and one year, online MBA program available. If you have finished your bachelor's in business in the last seven years, you may be able to opt for the one year program with these courses:
Managerial and Financial Accounting
Micro and Macroeconomics
Principles of Marketing
Principles of Management
Operations & Supply Chain Management
Students who are in the two year program can choose from the following concentrations:
Entrepreneurship
Finance
Marketing
International
University of Iowa
The Henry B. Tippie College of Business currently is ranked the top business school in Iowa, and #20 in the US, according to US News and World Report.
The online Bachelor of Arts in Business is offered in partnership with the Division of Continuing Education at the university, and students can focus their studies on either management or entrepreneurial management. This program is designed for students who have an associate's degree in business or transferrable college credit in business courses. Some of the required courses in the BBA program are:
Professional Preparation for Management
Individuals, Teams and Organizations
Strategic Human Resource Management
Dynamics of Negotiations
Students can complete this online bachelor's degree in business in as little as two to three years, depending upon the courses that they are transferring into the university.
The Henry B. Tippie College of Business is accredited by the AACSB.
Note that no online MBA program currently is offered at this university.
University of Georgia
The Terry College of Business at the University of Georgia offers an online Bachelor of Business Administration that offers students a broad background in practical and modern business knowledge. Most of the students who take this online business degree program are preparing for a career as an entrepreneur or manager.
The online undergraduate business degree program at the University of Georgia is specifically designed for the self-paced learner who works full time.
Required courses in the Bachelor of Business Administration degree program include:
Statistical Analysis for Business
Financial Management
Financial Modeling
Business Law
Operations Management
International Strategic Management
Organizational Behavior
Consumer Buyer Behavior
This university also offers a unique Master of Business and Technology that is 100% online. This degree program takes two years full time to complete. It will boost your skillset in IT and will provide you with advanced skills in project management and leadership. This program is currently ranked #16 in the US by US News and World Report for online graduate business degrees.
Required courses in the graduate program include:
Digital Business Technology
Internet Programming I and II
User Experience Strategy
Digital Transformation Strategy
Object Oriented Systems Analysis
All business programs within the Terry College of Business are accredited by the AACSB.
University of Illinois at Chicago
The College of Business Administration at the University of Illinois at Chicago offers an online Bachelor of Business Administration that allows students the convenience and flexibility of taking online courses so that you can complete your degree on your schedule. The curriculum offers you the opportunity to have a very well-rounded background in all areas of business. Students are able to hone their problem solving, critical thinking and leadership skills.
The BBA is ideal for students who have an associate's degree in business and have finished at least 60 hours towards their bachelor's degree.
This business school has more than 500 corporations that recruit business school graduates, and a 33,000 alumni network that can help to boost your career prospects.
The College of Business Administration also offers an online MBA that consists of approximately 54 credits. The core curriculum is as follows:
Financial Accounting
Corporate Finance
Marketing
Microeconomics
Operations Management
Organizational Behavior
Enterprise Strategy (capstone course)
All business programs at the University of Illinois at Chicago are accredited by the AACSB.
5 Success Tips For Taking Self-Paced Classes
All of the above business colleges offer the self-paced student many good degree options. If you are thinking about getting your online degree in business, it is important to remember the following tips to ensure that you get the most from your program:
Check the Technical Requirements
Online business degree programs are a big benefit to busy students and professionals. But if you cannot access the classes online, that is a big problem. Experts recommend that you understand all of the technical requirements well before the class begins.
This means that you should check at least a few days before your business classes start that your PC or electronic device will work with all of the program's tools. Also, run through the online delivery system the university uses in advance so you know where to find everything.
It also is a good idea if possible to use a hardwired Ethernet connection for time-critical assignments. For example, there are some business courses where you will need to take a timed test. You have only, say, an hour to complete the test. But if you are on a wireless connection and the Internet goes down, you could be in trouble. You can minimize the chances of this a happening by being on a wired Internet connection for examinations and other assignments that have a hard deadline. Use wireless Internet for other assignments that are more open ended for completion.
Talk to Instructors Ahead of Time
It is a good idea to check in with your instructors before classes begin. The nature of most online courses is that when you have a problem or a question, you typically have to wait for a response from the instructor. It helps if you already have opened the lines of communication before classes begin.
Have a Class Schedule
Many online professors will have a clear framework in place for completing assignments and taking examinations, but others don't. The nature of online classes is that your success is largely dependent upon you taking the initiative. Many class assignments take several hours or more to complete. It is up to you to have a schedule set up on your computer or even on paper to ensure that you will get all assignments and tests completed on time.
Keep Organized
When you take business classes on campus, you typically have set schedule that the professor provides you. There is set number of class meetings with in class instruction, followed by assignments outside of class. Online, you have to stay on top of the classroom instruction and assignments on your own. Make sure that all assignment due dates are noted on your calendar or smartphone, as well as any examination dates.
Keep a Dedicated Workspace
Just as with on campus business school, you should have a dedicated space to complete your online business program assignments. You must have a place where you can complete your assignments and tests without distractions. If you have young children, you need to have your personal life set up so that you can be left alone without any distractions for examinations and other critical business school work.
Learn More on Business Student.com
References