Reading Time:

10

minutes

<!- mfunc search_box_body ->

<!- /mfunc search_box_body ->

There are a lot of myths around starting a new business.

<!- mfunc feat_school ->

Featured Programs:

Sponsored School(s)
Sponsored School(s)
All school search, finder, or match results, as well as colleges and universities displayed as "Featured School(s)" or "Sponsored Content" are advertisers that compensate us for placement on this site. The resources, editorial content, and school evaluations published on this site are developed independent of the schools that advertise here.

<!- /mfunc feat_school ->

The most common myths are all based on the topics of capital and funding.

It's commonly believed that a large amount of investment is essential for building a successful business.

However, with Bootstrapping, you can avoid this.

And potentially build a better business as well!

Let's get into it.
What is Bootstrapping?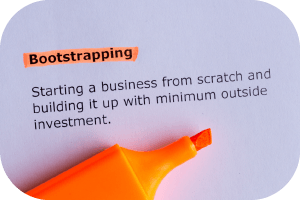 Bootstrapping is financing your company's startup and growth without the assistance of or input from others.
Bootstrapping is the way of starting a business with little to no venture capital, loans, external funding, large investments from outside investors and other traditional financing methods.
It requires thrifty-thinking, careful planning and a lot of creative planning. And of course, plenty of hard working hours.
Bootstrapping can help entrepreneurs to ensure positive cash-flow. It's also a valid term for business owners to treat and use valuable resources at any stage of their business' growth.
Most successful businesses like Amazon, Google and Apple have all started from basements and scratch. That's not without a reason. This guide will help you to start, grow and maintain a business on a bootstrap budget.
What is a bootstrapper?
A bootstrapper is someone who bootstraps their business. Thereby, not requiring any external capital, investment, or resources. Instead, choosing to do everything for themselves.
Hopefully, if you're reading this article, you could be the next bootstrapper.
When to Bootstrap?
You should bootstrap whenever you can! With online businesses, the answer is nearly always. With physical businesses, the decisions are harder. If you create a solid business plan, you should be able to figure out what will work for your business.
Bootstrapping Hardships
With all the rewarding outcome hardships can come. And they come from time to time, so the best advice is to make the most out of every opportunity and get prepared for the worst.
From lacking in time and focus to micromanagement issues, everything could happen in an unstable situation still at the beginning of the process.
Entrepreneurs must find the balance to manage everything from a limited budget.
Advantages of Bootstrapping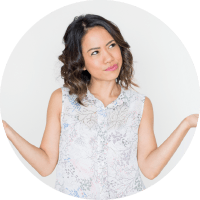 One of the biggest advantages is that you own responsibility for everything.
Since you are the leader of the company, everything relies on you. You have to figure out everything for yourself. This type of freedom makes you learn and grow both personally and professionally because it is inevitable for success.
Another advantage is that you create the focus of the startup so you can take it any direction you want. You can focus on what you are the best at, you can outsource other tasks and manage cash-flow. No one will actually tell you what to do.
Disadvantages of Bootstrapping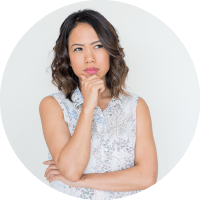 One of the main disadvantages is your personal risk factor. With using your own money, you are responsible for your finances. This could lead to the failure of your business.
Another disadvantage is the lack of networking opportunities. Angel investors are usually well-connected, which is a huge advantage in the life of a business. Missing valuable connections can come with a price.
The last and most important disadvantage is the slow growth. Sometimes, scaling up a business too fast could lead to a fast crash too. In this manner, we think of really slow growth. I mean very very slow. From scratch, with limited resources, it takes years to learn, grow and scale your business. However, the patience, experience, and learning gives you the ultimate edge for long-term success.
Top 15 Tips to Bootstrap Your Business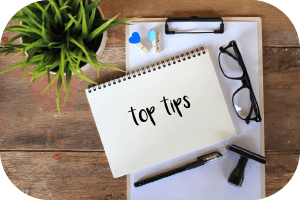 Now that we have the basics covered, here are some great tips to start bootstrapping your business.
Plan on the ground of reality. When you have a limited budget, you have to consider what you can afford. Careful planning keeps your business in control.
Choose the most appropriate business model for optimized revenue and time-management.
Know your customers. When you are the owner of the business, you have to be extremely aware of your customers.
Use online marketing where possible. When bootstrapping, you need to make sure you spend effectively. Digital marketing usually offers the best ROI.
Use technology to your advantage. Technology allows us to spend less money, become more effective and flexible. Using open-source software provides a great alternative to large, commercial and more expensive applications.
Use a time-tracking tool. For real. It has a lot of benefits from helping with your time management to an increased productivity level. Either way, it gives more than you might think.
Use an online invoicing/billing service. It allows you to manage your bookkeeping and billing process easier, quicker and more professional.
Carefully consider a co-founder. Having multiple perspectives on a problem can be a huge asset in business. With different skill sets, more things can be done and a faster and more stable growth could be provided.
Learn constantly and develop new skills. This is something you have to keep in mind when you want to grow. Without learning, it won't happen.
Only outsource the most necessary tasks. If there's something you do the best, why would you outsource it? When starting a company bootstrapped, things have to be done on a budget until you can outsource it confidently.
Use a virtual-assistant system rather than hiring a full-time secretary.
Purchase refurbished office equipment.
Promote your business or product through blogs.
Use cloud-based services.
Use alternatives to a complete phone system. It's most likely unimportant for a startup. Use alternative messaging and communication channels instead.
How to Bootstrap? – An In-Depth Look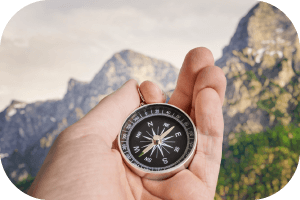 Now it's time to look at bootstrapping a bit more in-depth.
We won't go into everything, as each business differs from each other, even if they are in the same niche!
However, we'll consider the two most important aspects – finance and marketing! The rest of running a business you'll be able to learn quickly and efficiently, especially if you love what you're doing. However, with finance and marketing, you can have a lot of problems if you don't watch out!
Risks to Consider
Starting a business from scratch maybe harder than it seems and it's okay to fail sometimes. Instant success can't be guaranteed. Certain flaws can happen even if everything seems fine.
Failure has been teaching entrepreneurs to become even stronger from the beginning and it's unavoidable. The only real failure is when you don't learn from it and give up.
In case of funding and financial problems, it's always better to start everything from the beginning than giving up forever.
Idea Validation is Key
Before you start a business, making sure about its potential is necessary to prove there's a real market for it.
There are several measurable testing methods to validate ideas and start moving forward. For example, you can create landing pages and drive traffic to them and measure which performs better. It's an effective, low-risk and cost-effective way to understand what works and what not.
Bootstrap Financing
With all the traditional and alternative fundings are out of the way, you can start thinking about other ways you can manage the financial flow for the business. This is important to understand cash-flow on a deeper level. And it's only up to you.
Would you like to grow from the profit of the company? Would you like to use multiple income streams and put it into that specific company? Or would you like to start your business besides your full-time job until it makes enough revenue to drop that full-time job?
As I mentioned, it's all up to you. You have to consider which method works the best for you and which fits you the most.
Reduce the Costs
Reducing costs in an intelligent way is one of the greatest challenges when a business is bootstrapped.  Here are the top give tips on how costs can be reduced in the smartest forms:
Use free software where possible
Hunt for bargains! You'll never know where you'll find a great deal
Only buy what is absolutely necessary! If you can survive without it, and it doesn't improve your work output, don't buy it!
Don't have any monthly costs unless absolutely must! An office will set you back on multiple levels, but a table at Starbucks might be just as good.
Always put some money aside! You'll never know when you'll have some bad luck, so it's nice to have a reserve even if it's a small one.
Cashflow is Key
When you're bootstrapping, make sure to be wary of your cash flow, as this can be the biggest challenges. Even if you're making 5k a month but have a 4k expenditure you'll have huge problems with your cash flow!
Where possible make income come in before you pay your bills!
Bootstrap Marketing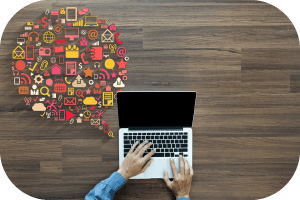 While financing is important, it's just as important to have good marketing.
While you won't be able to have million dollar campaigns like multinational companies, by being forced to be clever and creative you can get great campaigns for very little money.
Bootstrap Marketing Tips
Here are the best tips for bootstrap marketing that should help you out:
Know Your Customer!
It might seem obvious but know your customer inside and out. You should know your customers better then you know yourself, and better than they know themselves!
If you know your audience perfectly, then you can target them accordingly. You might even think of clever approaches that no-one else has thought of before. If you get the marketing right, you'll even be able to save money by having a lower customer acquisition cost.
Have Buyers and Influencers Create Your Buzz
If your product is great, have others sell it for you. Influencers can be a fantastic way to get your product out there. You can get contact details from sites like WhoRepresents.com, or come up with creative ways to reach them for free.
Even a tweet, or share from happy customers can be a great way of reaching new clients. So always give a friendly nudge to your customers after their purchase.
Build your Lists
Whether it's email, Facebook, Twitter, Instagram, or any other platform relevant to your niche, build your lists from day 0.
Having a list of followers you can reach out to can give small boosts to your income and can help improve your operations in the long term.
Giveaways
Giveaways are a cheap way to gain a lot of eyes on your product in a short amount of time. However, you must bear in mind that giveaways are not a suitable growth tactic in the long term and should instead be used for short-term results and impressions.
Go Viral!
It's now easier to create videos than ever before. If you have a great idea, try and make a video to show it. There are hundreds of people who have become famous and rich, due to just one well created viral video!
Be obsessive
This one talks for itself really. Don't stop working, always look for new ideas, and no matter what happens to keep moving forward! Don't panic if a campaign fails – it happens. Just learn from it and keep pushing the limits.
More Tips on Bootstrap Marketing
With all of the above in mind, here are some other marketing tips to consider.
Low Budget Tools
Where possible use free or low budget tools. There are millions of tools out there that you can use, so if you find a free or cheap alternative to a mainstream one, then use that instead. It doesn't matter if it doesn't have all the bells and whistles, as long as it does the job required.
Growth Hacking
Probably the best way for a bootstrapping business to grow its income is by growth hacking. Now we're not going to go into growth hacking as that's a whole article in itself. However, there are plenty of resources out there (some listed below) that should help you get into it.
Quora Discussion, Quicksprout, GrowHack
Double Down
When you find a marketing technique that works for you, double down! That means, make sure you invest more money in it, and reduce cost on those that are less effective. However, make sure you keep your eye on your different campaigns as results can change often and rapidly.
Get Motivated by Successful Bootstrappers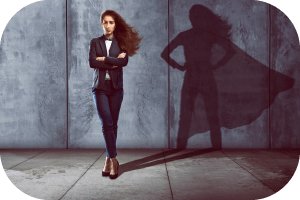 Here are a few successful entrepreneurs who bootstrapped their business, with some quotes of theirs to get you motivated! If you wish to find about more about them, or their companies, just follow the links.
Don't be intimidated by what you don't know. That can be your greatest strength and ensure that you do things differently from everyone else.
Dedicating myself to actually following through was my single biggest achievement.
When I'm old and dying, I plan to look back on my life and say wow that was an adventure, not, wow I sure felt safe.
Mike Arrington,  Keith Teare – TechCrunch
The main thing to know about me is that I'm a champion of entrepreneurs and the startups they build. They are my rock stars. If in doubt, I side with them, and that's clear from my writing.
To many people assume an "original idea" is just something that looks visually different then others. I created the first real free dating and the first one that actually worked. Just like Google created the first real search engine that worked. There is no such thing as a secret.
Bootstrapping Statistics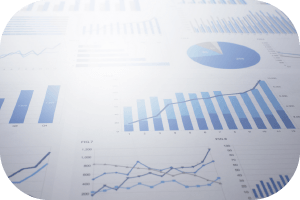 Here are some interesting bootstrapping statistics to help motivate you in getting your business started.
50% of all new business fail within five years.
You're more likely to succeed if you've failed than if you've never tried.
95% of entrepreneurs have at least a bachelor's degree.
Scaling too fast, too soon is the number one reason most new companies fail.
Two founders, rather than one, significantly increases your odds of success. You will raise 30% more investment, grow your customers 3 times as fast, and will be less likely to scale to0 fast.
Bootstrapping 101 Recap
In short, bootstrapping is a fantastic way to own a business. It can take time, effort, dedication, and much more. However, if you hit the nail on the head you are likely to have a fantastic life and possibly make a few million dollars in the process.