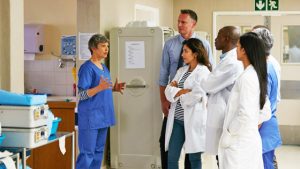 Reading Time:

8

minutes

<!- mfunc search_box_body ->

<!- /mfunc search_box_body ->

Not everyone thinks about the healthcare field when considering a business management career. But you would be wise to do just that. The Bureau of Labor Statistics (BLS) informs us that employment in all healthcare occupations will rise by 18% from 2016 to 2026. This is much faster than average. All together, it is expected that there will be as many as 2.3 million jobs in the healthcare field. This is more jobs than any other occupation in that time frame. Increased demand for healthcare workers is being caused by our aging US population, among other factors.

<!- mfunc feat_school ->

Featured Programs:

Sponsored School(s)
Sponsored School(s)
All school search, finder, or match results, as well as colleges and universities displayed as "Featured School(s)" or "Sponsored Content" are advertisers that compensate us for placement on this site. The resources, editorial content, and school evaluations published on this site are developed independent of the schools that advertise here.

<!- /mfunc feat_school ->

Therefore, management professionals who want to enjoy a strong demand for their services and a good salary would be wise to consider working in healthcare facilities and hospitals. If this sounds like a good fit for you, be sure to review the X best management jobs to consider in a hospital setting:
1. Medical and Health Services Manager
This leading position in a hospital or healthcare facility is often called healthcare executive or healthcare administrator. Medical and health services managers are responsible for directing, planning and coordinating vital health and medical services in healthcare facilities. As a healthcare administrator, you may manage the entire hospital, a certain floor or clinical department, or even a group of doctors in a medical practice. Among their many important responsibilities are to keep up to date with regularly changing healthcare laws, technology and regulations.
See also Salary Outlook with a Healthcare Management vs Administration Degree
Medical and health services managers usually will do the following in a hospital:
Boost the efficiency and quality of healthcare services in the hospital
Develop the hospital's objective and goals for the year
Ensure that the hospital is completely update and compliant with all regulations and laws
Recruit, train and supervise hospital staff
Manage the hospital's finances, including billing and patient fees
Create the work schedules for hospital employees
Prepare and monitor hospital budgets and spending
This is a great management job to have in a hospital in part because demand is soaring. BLS tells us that demand for these managers will soar by 20% through 2026. As there is more need for clinical workers and doctors in hospitals, there will be a rising need for effective business managers to operate the new and expanding healthcare facilities.
Median pay in this management role is also excellent, with a median salary of $96,500 expected. Administrators who work in hospitals tend to get paid even more, with a median wage of $104,300.
Degrees required:
2. Health Information Manager
A health information manager is responsible for acquiring, analyzing and protecting traditional and digital hospital and healthcare information that is critical to provide the best patient care. Effective health information managers effectively balance the disciplines of science, business and IT.
All HIM professionals are highly trained with the newests information management technology that are used in hospitals. They know well the workflow of a large hospital or healthcare system, as well as the systems that run in a medical practice. Health information managers are very important to keeping a hospital running in a smooth fashion as they oversee all health information and electronic health records or EHRs.
A health information manager can work in different departments and with different job titles in a hospital. They often serve in somewhat of a bridge capacity and connect administrative, clinical and operational professionals. HIMs affect patient information and quality care at every part of the hospital care delivery cycle.
In most hospital settings, a health information manager will be responsible for the quality, integrity and protection of the following type of health information for patients:
Patient history and medical examinations
Lab results including blood and urine
Clinical information
X-rays and other radiology outputs
Monster.com reports that health information managers earn a median salary of $57,300, but if you have a master's degree, it is likely that you can earn above $80,000, as a healthcare administrator does in many cases.
More information by job title:
Degrees required:
3. Administrative Service Manager
Administrative service managers are responsible for planning, directing and coordinating supportive services for organizations such as hospitals and healthcare facilities. The responsibilities of an administrative service manager can vary depending upon the organization, but usually they are responsible for facility management. They also oversee major facility functions, such as recordkeeping, distribution of mail, and the general up keep of the facility.
In a smaller healthcare organization, this professional may be referred to as a facility manager. Larger healthcare organizations may have administrative managers that are responsible for different hospital departments. Common duties in a hospital may include:
Supervise administrative and clerical workers in various hospital departments
Set goals and deadlines for various departments and sections of the hospital
Monitor, manage and develop hospital records
Recommend any needed changes to hospital procedures and policies to enhance operations, such as updating the types of medical supplies that are kept on hand
Monitor the healthcare facility to ensure that it is safe, secure and properly maintained
Provide oversight for maintenance and repair of hospital equipment, including electrical and mechanical systems
Administrative services managers will see 10% growth through 2026, which is faster than average. It is likely that administrative management will grow faster in the healthcare field. As these facilities continue to grow and new ones appear, it is likely that the need for effective administrative and facilities management will only grow for hospitals.
The median salary for administrative services managers was $90,100 in 2016.
4. Management Analyst
Management analysts or consultants are enjoying growing popularity as they propose new ways to improve the efficiency of an organization. As the healthcare field is experiencing such rapid growth, there is a greater need for management analysts and consultants to provide their services to hospitals. Management analysts provide advice to senior hospital staff on how to make the healthcare facility more profitable by reducing costs and enhancing revenues, while also providing a high level of patient service.
See also Management Analyst 
Typical duties include:
Collecting and organizing healthcare facility information to understand the challenges that need to be solved.
Interview hospital personnel and do onsite observations to determine the types of equipment, personnel and equipment that will be needed to meet goals.
Collect and analyze hospital data, including revenue, patient numbers, expenditures and reports about employment.
Develop potential solutions to meet healthcare facility goals.
Recommend new systems and procedures to the hospital, which may involve substantial changes to the organization
Management analysts and consultants may work for the healthcare facility, or more often, work for a contracting company that works with healthcare systems and organizations.
The job outlook in this field is bright with 12% increase in jobs anticipated through 2026. It is expected that job demand will be even higher in the healthcare field, as hospitals are expanding quickly and need to understand how to be more profitable and deliver higher levels of patient care.
The median salary in this field is $81,330.

Degrees required:
5. Financial Manager
A financial manager in a hospital or healthcare facility is responsible for overseeing and improving the financial health of the organization. Financial managers are responsible for producing financial reports, directing investment activities, and devising strategies and plans that will enhance the long term financial goals of the hospital. Healthcare systems are under increasing pressure to provide a higher level of care at a lower cost, so effective financial management by these business professionals is very important in this setting.
See also Financial Analyst Salary
Financial managers in hospitals may do some or all of the following:
Prepare healthcare facility financial statements, forecasts and business activity reports.
Monitor the financial details of the hospital to be certain that all legal requirements are met.
Provide supervision for employees who do budgeting and financial reporting for the hospital.
Analyze healthcare market trends to increase profits and find opportunities for healthcare system expansion.
Financial managers for healthcare managers are major contributors to the growth and success of the hospital as they oversee all of the finance aspects of the facility. They also will ensure that communication is clear within the organization regarding finance and will regularly review financial reports, as well as oversee tax and legal compliance.
The job outlook for finance managers in healthcare systems is excellent, with 19% growth expected through 2026. The median salary is high at $121,700.
Degrees required:
6. Hospital CEO
The CEO of a hospital is the leader of the entire organization. Just as a CEO is in charge of any other type of business operation, the CEO of a hospital is responsible for directing and managing all operations, creating budgets, negotiating vendor contracts and approving new hires. The CEO of a healthcare facility or hospital also is usually responsible for analyzing sales reports and finding new ways to save on the bottom line. The CEO for the hospital will usually need to report to a board of directors.
Depending upon the healthcare system or hospital, you could have a different title, such as executive director, chief operating officer, or chief financial officer.
The Bureau of Labor Statistics states that the median salary for all chief executives in 2016 was $181,000. For healthcare and social assistance professionals, the median salary was $150,300.
Degrees required:
7. Human Resources Manager
A human resource manager in a hospital is responsible for planning, directing and coordinating the many administrative functions of the healthcare facility. The HR manager is in charge of recruiting, interviewing and hiring new hospital workers, both clinical and administrative/managerial. This manager in a hospital also will work with the CEO or other executives on executing strategic plans to increase the profits of the hospital.
In a healthcare setting, it is important for the HR manager to know how to increase the value of each employee in the organization to ensure that they are used in an efficient manner. This is important for increasing the profits of the healthcare facility, while also maintaining a high level of patient care in a competitive environment.
Jobs in this field will grow by 9% through 2026, but it is logical that the demand in the healthcare field will be greater. There is a rapid increase in almost all types of jobs in the healthcare profession, and HR managers should be no exception.
The median salary in the HR manager field was $106,000 in 2016, and in the healthcare field, it was $91,250.
Additional jobs by title:
Degree required:
8. Training and Development Manager
Training and development managers are needed in hospitals today as there is a rapid growth of all kinds of healthcare workers. Those new workers are needed for the construction of new and expanding healthcare facilities across the country. These new workers need to be trained by effective training and development managers on current hospital policies.
Training and development managers in a healthcare facility are responsible for the oversight of healthcare training programs, and also overseeing staff and training budgets. These managers also choose the content and materials for the courses they teach. The training can be a video, a self guided manual or an in person or online course that is taught live or recorded.
9. Compensation Manager
A compensation manager is responsible for planning, developing and overseeing programs that compensate hospital employees. They are responsible for the overall management of the pay structure for the healthcare organization. They are responsible for monitoring the conditions of the market in the healthcare field, as well as government relations, to ensure that employee pay in the hospital is fair and competitive. This is a very important responsibility today, as there is strong demand for most healthcare workers. Having a competitive pay structure is critical to keeping healthcare workers at a hospital over the long term.
The compensation manager performs her duties by doing regular data analysis to determine what a fair and prevalent wage is for all of the positions in the hospital. The manager also will watch trends that affect pay and benefits, and assess how the facility can improve policies and practices.
The median pay in this field in 2016 was $116,200, and $104,800 in the healthcare sector.
References